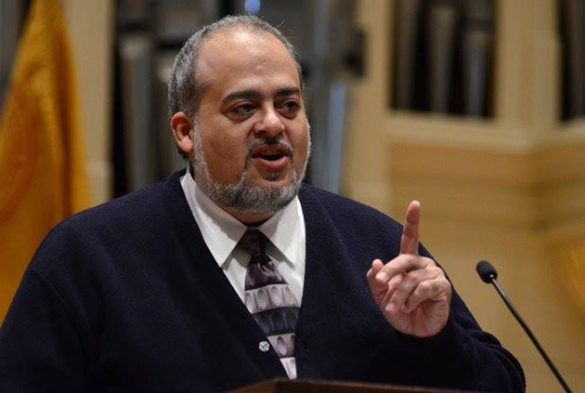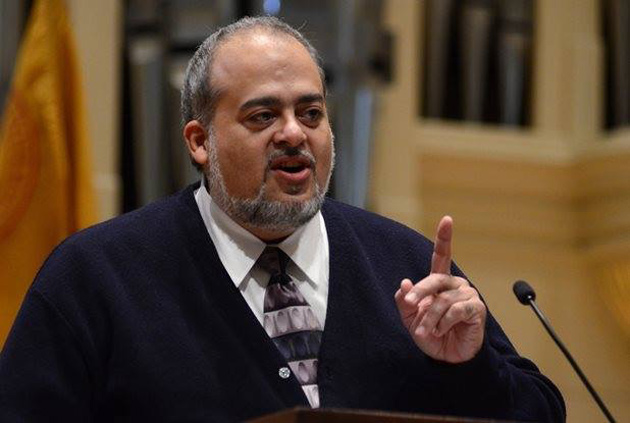 Dale P. Andrews, a renowned scholar on the art of preaching, teacher, minister and social justice activist, died June 23. Andrews, 55, had been battling cancer.
Andrews was the Distinguished Professor of Homiletics, Social Justice and Practical Theology and the Cornelius Vanderbilt Chair at Vanderbilt Divinity School.
"Dale Andrews breathed a life of faith and love in his scholarship, his ministry, his relationships, his teaching," Emilie M. Townes, dean of the Divinity School and the E. Rhodes and Leona B. Carpenter Professor of Womanist Ethics and Society, said. "Known for his booming laugh, his ability to create community, his deep love of fellowship and friendship, he helped shape a culture of collegiality and fierce academic excellence in the Divinity School and in the wider academic community. I will miss him. We all will miss him."
For the past year, Andrews had been collaborating with an interdisciplinary group of faculty on developing a curriculum for training activists and scholars on how to address ongoing and emerging issues related to racial justice. "Vocations in Racial Justice: Transdisciplinary Activists, Practitioners, Scholars" was among the 2016 winners of Vanderbilt's Trans-Institutional Program initiative.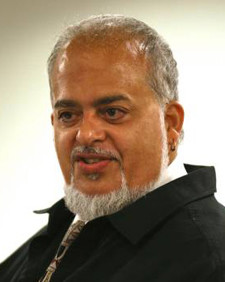 Andrews was also the co-founder of a program funded by the Lilly Endowment to train coaches who help preachers improve and enrich their sermon preparation and communication skills. He and John McClure, Charles G. Finney Professor of Preaching and Worship, launched the David G. Buttrick Certificate Program in Homiletics Peer Coaching in April 2015.
"Dale was a tremendously vital presence on our faculty: an internationally renowned scholar and a life-changing teacher," McClure said. "In the classroom, Dale helped students of all races and religious backgrounds connect their faith to the genius of the long tradition of social justice in the African American church. Always, his greatest joy was his students. He cared deeply about not only their scholarship, but also their lives."
Andrews wrote Practical Theology for Black Churches: Bridging Black Theology and African American Folk Religion (2002) and co-authored Listening to Listeners: Homiletical Case Studies (2004) and New Proclamation: Advent through Holy Week, Year A, 2004-2005 (2004). He also designed and co-edited Black Practical Theology (2015) and co-edited a multivolume lectionary commentary series, Preaching God's Transforming Justice (2011, 2012, 2013).
In addition, he co-edited "Afrofuturism in Black Theology — Race, Gender, Sexuality, and the State of Black Religion in the Black Metropolis" in a special issue of Black Theology: An International Journal (2016) with Terrance Dean, a doctoral student in homiletics and liturgics.
At the time of his death, he was working on two books on the preaching tradition in the Black Church.
An ordained minister in the African Methodist Episcopal Zion Church, Andrews had served AME Zion churches in Connecticut, New Jersey and Massachusetts previously.
Andrews earned his bachelor's degree from Wesleyan University in Middletown, Connecticut, where he double majored in religion and sociology. He received a master of divinity in 1991 from Princeton Theological Seminary with a concentration in clinical social work. The next year he was a visiting research fellow at the University of Oxford, where he conducted independent research in historical studies on Methodism and preaching in the early church.

Andrews earned a master of arts in 1997 and a doctorate in 1998 from the Vanderbilt Graduate Department of Religion, where he was a Dorothy Danforth Compton Fellow. Enrolled in the homiletics and in the religion and personality degree program, he was awarded a dissertation fellowship from the Louisville Presbyterian Theological Seminary. He taught at the Louisville seminary and Boston University School of Theology prior to coming to Vanderbilt in 2010.
Andrews' many professional honors included serving as the president of the Academy of Homiletics as well as the Association of Practical Theology. He was treasurer of the Society for the Study of Black Religion from 2012 to 2016.
A memorial service for Andrews will be held Saturday, Aug. 12, at 2 p.m. in Vanderbilt's Benton Chapel.