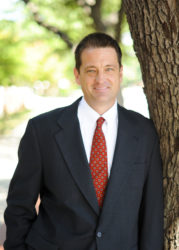 David ter Kuile, an accomplished leader with 19 years of experience in multiple sectors of the food service industry, has been named executive director of Campus Dining. He will lead the award-winning Campus Dining program, which includes 21 campus locations, 42 managers and a staff of 280.
Before joining Vanderbilt, ter Kuile oversaw dining operations at Southern Methodist University and served as senior director of dining at High Point University. His professional background includes entrepreneurship, as well as food service operations.
"David brings extensive food service experience and a proven record of visionary leadership. As Vanderbilt looks toward the expansion of dining in residential colleges, we are fortunate to have a collaborative, innovative leader at the helm," said Laura Nairon, associate vice chancellor for business services. "[lquote]David has a strong commitment to professional development, training and mentorship programs, which will benefit the staff and management of Campus Dining[/lquote] and support our goals for providing pathways for professional growth."
The new dining locations in the residential colleges will join the comprehensive meal plan currently offered by Campus Dining that includes meals in a retail environment, to-go meals in campus convenience stores, and offering flexibility through the use of Meal Money, Flex Meals and local restaurant partners in Taste of Nashville.
"Dining together is a cornerstone of campus community, and Vanderbilt's commitment to including dining in residential colleges underscores its importance in campus life," said ter Kuile. "I look forward to engaging with students, student groups, the student-led Dining Advisory Council, and with colleagues across the university."