Media Inquiries
Latest Stories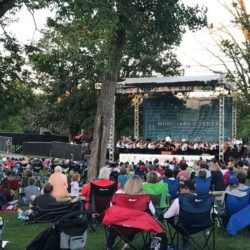 Concertgoers set out their chairs and blankets across the green grass in front of the stage as the Nashville Symphony performed a spectacular program June 8 on a beautiful summer evening at the Musicians Corner in Centennial Park.
Vanderbilt University employees and their families picked up water and snacks at the VU tent, and fans were provided by the symphony.
The program featured nearly a dozen selections led by conductor Vinary Parameswaran, including the finale, John Williams' "Raiders March" from Raiders of the Lost Ark. A variety of food trucks, including Roadhouse Grille, Brothers Burger, Florida Cocina, The Urban Juicer and Frisson Soft Serve, fed the crowd.
To stay up-to-date on more events coming this summer, check out the Employee Appreciation page.