Vanderbilt Family Night with Nashville Symphony tonight at Centennial Park
Jun. 8, 2017, 5:00 AM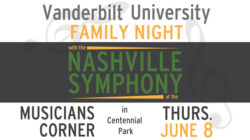 The annual Vanderbilt Family Night with the Nashville Symphony will be at the Musicians Corner in the southwest area of Centennial Park this evening beginning at 5 p.m., and will include a special performance by Brooke Waggoner. The symphony is slated to perform at 7:30 p.m.
The Musicians Corner was established in 2010 and focuses on engaging the community, promoting arts education and supporting local artists.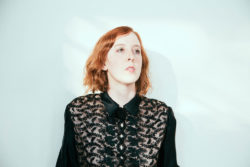 Activities at the Musicians Corner include something for all ages. The Kidsville is a destination for parents to bring their children to enjoy crafts, fitness, and an educational Musical Meet & Greet. All that fun can work up an appetite, so be sure to stop by one of the nearby food trucks and pick up something good to eat.
Bring the entire family tonight to enjoy one of the many Vanderbilt University Employee Appreciation events being held throughout the year.
The Nashville Symphony's June 8 program includes:
Kabalevsky – Colas Breugnon Overture
Beethoven – Finale from Symphony No. 7
Hayman – Servicemen on Parade
Bizet – Farandole from L'arlesienne Suite No. 2
Tchaikovsky – Polonaise from Eugene Onegin
Saint-Saëns – Bacchanale from Samson and Delilah
Dvořák – Slavonic Dance Op. 46, No. 6
Porter – Begin the Beguine (arr. Hermann)
John Williams – Raiders March from Raiders of the Lost Ark
Visit the Employee Appreciation website or email employeeappreciation@vanderbilt.edu for more information.