Media Inquiries
Latest Stories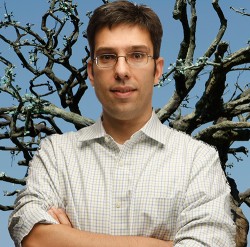 Cornelius Vanderbilt Professor in Biological Sciences Antonis Rokas has been selected as a finalist for the 2017 Blavatnik National Awards for Young Scientists. The $250,000 awards are the largest unrestricted awards of their kind for early career scientists and engineers.
Rokas is one of 30 finalists picked from a pool of the most promising scientific researchers aged 42 years and younger at America's top academic and research institutions. From this group "national laureates" will be chosen in three fields: physical sciences and engineering, life sciences, and chemistry. The final selection will be announced in late June and the research of the 2017 finalists and honorees from previous years will be featured at a symposium in July in New York City.
The Blavatnik Awards were established in 2007 by the Blavatnik Family Foundation and are administered by the New York Academy of Sciences to recognize exceptional young researchers who will drive the next generation of innovation by answering today's most complex and intriguing scientific questions.
Rokas studies the DNA record to gain insight into the patterns and processes of evolution using both computational and experimental approaches. He is particularly interested in three major questions: How did human pregnancy evolve? What are the molecular foundations of the fungal lifestyle? How can we elucidate the tree of life?
For example, his recent research has addressed the question of whether sponges or marine jellies were the earliest animals and how to identify the gene networks that plants use to produce biologically active compounds that are the source of many drugs. He also helped create an online tool designed to leverage the growing knowledge of human genomics to advance scientific understanding of the complications of gestation and childbirth.
The Blavatnik Family Foundation is an active supporter of leading educational, scientific, cultural and charitable institutions in the United States, Europe and throughout the world. The foundation is headed by Len Blavatnik, an American industrialist and philanthropist. Blavatnik is the founder and chairman of Access Industries, a privately held U.S. industrial group with global interests in natural resources and chemicals, media and telecommunications, emerging technologies, life sciences and real estate.