Media Inquiries
Latest Stories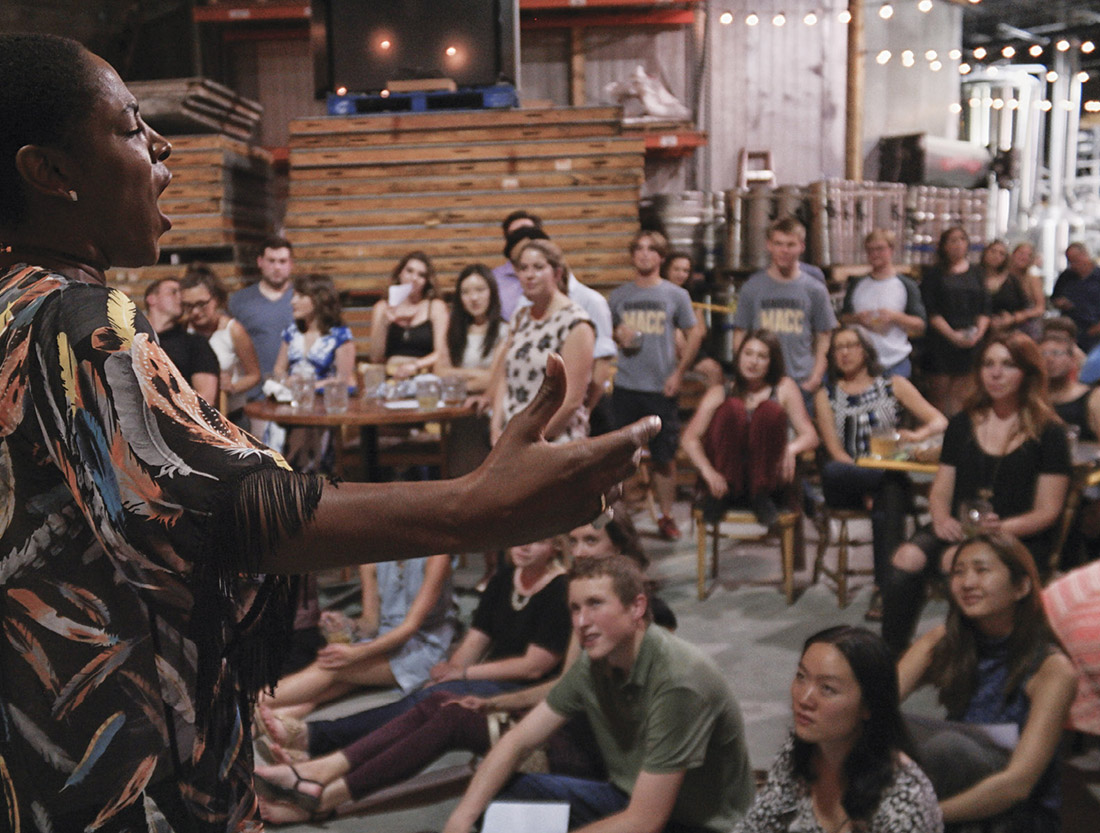 Nashville is known for its live music scene. Some nights you can drink a beer and enjoy country, blues, bluegrass, opera … no, not opry, opera—complete with a Viking helmet passed around afterward for donations.
Thanks to Blair School of Music alumnae Erin Ridge, BMus'15; Charlotte Ulrich, BMus'15; and Lindsay Cunningham, BMus'10, you can add opera to the mix of music options found in local Nashville taprooms. The three lead the Nashville chapter of Opera on Tap, an international organization committed to building an audience for an art form that many find intimidating, expensive and somewhat incomprehensible. These alumni are finding that audience in bars.
"Part of the mission of Opera on Tap is to reach out to all generations," Ridge says, "but more specifically to those in our generation who may not have any experience with opera, but would definitely be willing to sit and listen to music at a bar."
The group grew out of the Hillsboro Opera Ensemble, put together by Cunningham and fellow 2010 Blair alumni Preston Orr and Mary Hewlett. Ridge, who joined them for their last recital, and Cunningham were brainstorming how to expand their venue options when they discovered Opera on Tap.
"I saw on social media that a Vanderbilt alumna named Julia Taylor [BMus'12] was singing in Los Angeles with Opera on Tap, and another friend was singing in Germany with the Berlin chapter," Cunningham says. "That led me to find the Opera on Tap website and read more about their mission. I immediately contacted the founder, Anne Hiatt, to learn how to start a chapter in Nashville."
The group of 15 to 20 singers began its first season with a show at the Little Harpeth Brewing Co. in September 2016. Things have taken off, with more shows than originally planned and a GoFundMe page for possible commissions. Themed shows included an Octoberfest/Halloween outing with selections ranging from Stephen Sondheim's musical Sweeney Todd to "Gretchen am Spinnrade," a "fun and freaky art song," says Ulrich, who sang it, based on a scene from Faust.
They also produced an ugly holiday-sweater party, which was followed at the same venue by a punk metal band in black leather. ("The juxtaposition was hilarious," Ridge says. "But we hope to do more of that kind of thing intentionally," adds Ulrich, "and bring in crossed audiences like that.") In February a Valentine's show packed with songs of romance, love and heartbreak was produced at the Lipstick Lounge. The final show of the season, in May, was at New Heights Brewing Company.
"What we've learned is that people are curious," Ulrich says. "They may not find that opera is their new favorite type of music, but at least they're willing to try it. It's easier for them than a traditional opera experience. It's accessible and it's fun."
–Bonnie Arant Ertelt
For more information visit operaontap.org.