Media Inquiries
Latest Stories
Just after graduating from college, Ken Burns found himself sick in bed with pneumonia. To help him pass the time, his best friend brought Burns a paperback copy of David McCullough's classic book on the building of the Brooklyn Bridge. Burns read the book "in one gulp," then came into the living room in pajamas and bathrobe, saying: "This is it! This is our film!"
"And they all looked at me like I was crazy," Burns told Vanderbilt University Chancellor Nicholas S. Zeppos in an interview for the latest edition of his podcast, The Zeppos Report.
What many people would have dismissed as feverish utterings instead turned Burns onto his successful career path as a documentary filmmaker. The Brooklyn Bridge became Burns' first film, earning him an Academy Award nomination before he was 30.
Burns and Zeppos shared a wide-ranging conversation during Commencement Week in May, following Senior Day festivities where Burns was awarded the Nichols–Chancellor's Medal and then spoke to seniors and their families about heroes and leaders.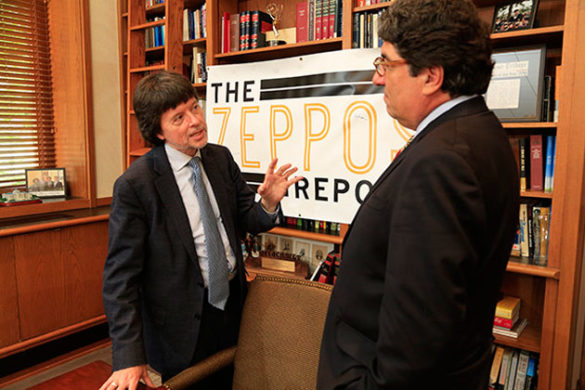 Burns told Zeppos that he knew at 12 that he wanted to be a filmmaker, and then at 19, in his first year at Hampshire College, realized that he wanted to be a documentary filmmaker. "My teachers there always reminded me that there is as much drama in what is, and what was, as anything the human imagination dreams of," he said.
Burns' filmmaking career reads like a version of American history vastly different from the dates-and-places version taught in social studies classes across the nation. "I try to create an emotional archeology of our history," he said. "Not in the sense of sentimentality or nostalgia, but in the sense of making 1 and 1 equal 3, where the whole is greater than the sum of the parts."
Burns' nine-part series The Civil War brought him into the American mainstream, and he's stayed there ever since with features on jazz, baseball, Prohibition, World War II, the Roosevelts and more. To debut in September on PBS is his 10-part, 18-hour documentary film series on the Vietnam War. "With this film, I've tried to create a place where multiple truths exist," he said.
Burns and his team are hard at work editing his next film, which is on the history of country music. He says the project "fires on all cylinders" for him in terms of telling stories of "who we are as a people. Country music is for people who feel like their stories haven't been told having their stories told," he says, adding that Nashville is as much a character in the film as the country music stars. "It seems that all roads in the history of country music led to Nashville," he said.
Burns joined Zeppos on campus for the interview, which took place on May 11, 2017.
The podcast is available on SoundCloud, Stitcher, Google Play, iTunes, YouTube and The Zeppos Report website.