Webb, mentor to students in the biological sciences, has died
May. 31, 2017, 10:16 AM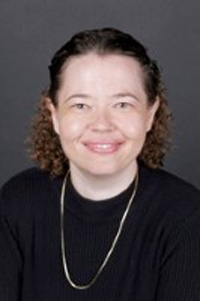 The Department of Biological Sciences will host a memorial service for Donna Webb on Thursday, Sept. 21, at 3 p.m. in Vanderbilt's Benton Chapel, with a reception to follow in Tillett Lounge at Vanderbilt Divinity School.
If you'd like to speak at the service, please contact Patricia McCleskey by Sept. 7.
Donna J. Webb, professor of biological sciences and of cancer biology at Vanderbilt University who mentored graduate students and undergraduate researchers in the Department of Biological Sciences and served on the Steering Committee of the Fisk-Vanderbilt Master's-to-Ph.D. Bridge Program, died May 15. She was 50.
Webb received her bachelor's degree in chemistry from James Madison University and her Ph.D. in biochemistry from the University of Virginia. She went on to complete a postdoctoral fellowship and hold a position as a research assistant professor in cell biology at the University of Virginia prior to joining the biological sciences department at Vanderbilt.
Webb maintained a vibrant, NIH-funded research laboratory at Vanderbilt from 2005 until the time of her death, publishing more than 80 peer-reviewed articles. Her research focused on cell motility and its role in cancer metastasis as well as mechanisms that facilitate neuronal development and synapse formation.
Webb served as the director of graduate studies in Biological Sciences and was a member of the Steering Committee of the Fisk-Vanderbilt Master's-to-Ph.D. Bridge Program. She was instrumental in expanding the program to welcome students interested in pursuing careers in biology.
During her Vanderbilt career, Webb mentored 15 graduate students who have earned or are currently pursuing their Ph.D. degrees, four postdoctoral fellows, and a number of undergraduate researchers. She was a vital contributor to the teaching mission in the Department of Biological Sciences, having taught the intermediate Cell Biology course and advanced courses in cancer biology for many years.
Webb was preceded in death by her father, Donnie R. Webb. She is survived by her mother, Dorothy H. Webb.
A memorial service is being planned for the fall 2017 semester. Memorial contributions in Webb's honor may be made to Rocky Mount Baptist Church, 85 W. Church Street, Rocky Mount, Virginia 24151.