The Tennessee College Public Relations Association honored Vanderbilt University with seven awards during the higher education organization's spring 2017 conference.
Receiving a Gold (first-place) award: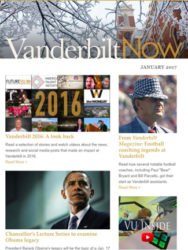 Newsletter, Printed
MyVU 2016 spring and fall issues
Newsletter, Electronic
Vanderbilt Now
Social Media
Take Over Tuesday – Snapchat
University-Related Web Page or Site
Vanderbilt Admissions, Finding Our Class
Receiving a Silver award:
Brochure/Flier
Designing the Future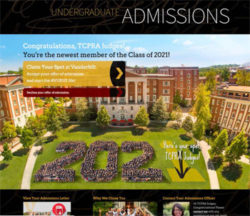 Social Media
April Fool's Day: Squirrel Campus Tour 
Receiving a Bronze award:
Radio/TV Show or Newscast
That's Vanderbilt
A total of 188 entries were submitted by universities and colleges across the state for the annual competition, which was judged by professionals in corporate communications, government relations and design fields who were not affiliated with any particular school.
This year's conference took place in Gatlinburg, Tennessee, May 24-26. Speakers included Pete Owens, director of media/public relations for Dollywood; and Javier Solano and Colby Sledge with McNeely, Pigott and Fox public relations firm.