Media Inquiries
Latest Stories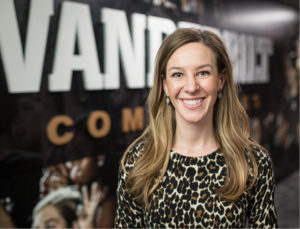 Ann Hollis, BA'07, is a member of that diehard breed of Vanderbilt fans: the ones who bleed black and gold, the ones who never miss a game, the ones who know the generations of Commodore athletes who came before them. Through her planned gift to Vanderbilt athletics, Hollis is helping to ensure that the student-athletes who come after her will continue to excel.
The motivation for her gift reaches back to her early childhood, when her family would drive an hour from Murfreesboro, Tennessee, to attend Vanderbilt basketball games. Athletics also was an integral part of Hollis' student experience, though she herself was not a student-athlete. While she pursued an economics degree in the College of Arts and Science, she would attend all the games she could—and gained a whole new appreciation for the demands of SEC athletes in a rigorous academic environment.
Today, as a financial adviser, Hollis has always known that Vanderbilt athletics would factor into her estate plans. Using proceeds from a life insurance policy, she will establish the Ann W. Hollis Athletic Scholarship to provide support for student-athletes in the future.
"As much satisfaction as this university has given to me, paying it forward through this gift is the least I can do," Hollis says. "Athletics is so important to bringing attention to Vanderbilt and shining the light on all the incredible things that happen here. I'm incredibly proud that Vanderbilt does athletics the right way."
Hollis is still a regular at Memorial Gym and Dudley Field, and she's developed some new sports interests as of late: She's engaged to Donnie Young, assistant coach of the women's track team. After Young first noticed Hollis' frequent posts about Vanderbilt athletics on social media, the pair finally met and are now planning an August wedding.
—SARAH WOLF, MEd'10
---