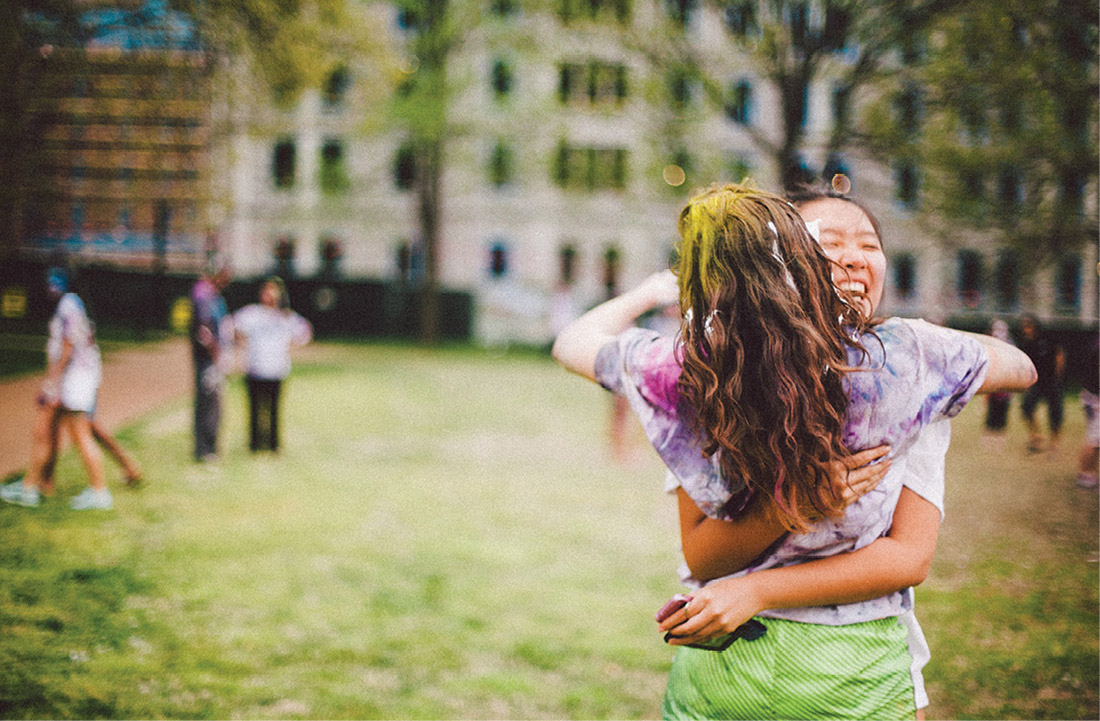 In 2005 psychology researchers in the United Kingdom published results of two experiments testing a person's willingness to help a stranger in need based on their group affiliations.
Both experiments began by recruiting fans of the popular soccer team Manchester United. In the first test, researchers asked participants to walk across a campus as they staged a jogging accident involving someone wearing a Manchester jersey, one from arch-rival Liverpool, or a generic sports shirt. When the runner wore a Manchester jersey, that person received help from the team's fans in nearly every case. But when the runner wore one of the other shirts, Manchester fans offered help only about half the time.
In the second experiment participants were told in advance that the study focused on all soccer enthusiasts. In this case the Manchester fans were equally willing to assist those wearing either team's jersey. It was only when the runner wore a plain sports shirt—and therefore displayed no obvious affinity for soccer—that the Manchester fans were less willing to help. These results suggested that group identity (and the benefits members are inclined to extend to each other) can be expanded with the proper nudge.
I take two lessons from this study. The first is that I need to replenish my stock of Vandy gear in case I'm ever in a jogging accident. The second involves asking myself how I define the Vanderbilt community. When I think of Vanderbilt, my mind immediately goes to my friends and classmates. But what about alumni from the graduate and professional schools, staff and faculty members, sports fans, even prospective students? Each one of these individuals helps make the Vanderbilt community a special place filled with smart, capable people willing to lend a hand when needed.
The starting point for thinking about group loyalties came during a recent chat with Perry Brandt, BA'74, JD'77, president of the Vanderbilt Alumni Association. He was in town to speak at an event for graduating seniors about the art of business etiquette. But this was old hat for Brandt. He still teaches a class at the Law School, interviews potential students as part of the Commodore Recruitment Programs (CoRPs), and is a regular at the Summer Send-Off Parties hosted by Vanderbilt alumni for incoming first-year students. In short, he's the embodiment of an engaged alumnus doing whatever he can to help others stay connected to the university.
Another person offering a helping of Commodore kindness is Adena Friedman, BA'93, the subject of this issue's cover story. Amid her first few months after taking over as CEO of Nasdaq, she generously made time for Vanderbilt Magazine and also returned to campus in May to deliver Owen's Commencement address and speak with students, faculty and staff members. As anyone who's spent time with Friedman will tell you, her work ethic, intelligence and warm spirit are as infectious as they are inspiring.
And in February, as part of Black History Month, Vice Chancellor David Williams organized a weekend honoring civil rights leaders, many with Vanderbilt ties. As the powerful image opening this magazine and the story convey, the event was not about simply looking back upon history, but imparting the lessons of the past to a new generation.
Being part of Vanderbilt's thriving, welcoming community offers a steadying counterweight to the many fractures taking place on the world stage. The bigger we can make the group—whether by attending more alumni events, contributing on Giving Day (June 15), or just raising a hand as someone willing to offer advice to students or recent grads—the better off we'll all be.
—RYAN UNDERWOOD, BA'96, EDITOR
ryan.underwood@vanderbilt.edu
@runderwood
---