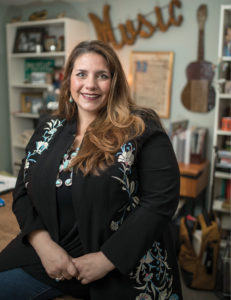 Tatum Hauck Allsep grew up in Mississippi with parents who bled black and gold. She knew all about the strong traditions, the beautiful campus, and the exceptional reputation of the academics. What she didn't know was that attending Vanderbilt would be a life-changing experience.
Allsep thought she would pursue a career in medicine, following in her family's footsteps. During her time in Nashville, however, she was drawn to the music industry. Through Peabody's Human and Organizational Development (HOD) program, she interned at MCA Records and took a full-time position there after graduation. Her career path took an unexpected turn after a six-week hospital stay before delivering twins.
"I was self-employed at the time as an artist manager, and I had what I thought was a good insurance plan," Allsep recalls. "I left the hospital with one incredibly high hospital bill, two healthy babies and hundreds of questions. That experience sparked my interest in learning how better access to health care could impact self-employed professionals, specifically in the music business."
In 2012 she founded her own nonprofit, Music Health Alliance (MHA), to help members of the music community protect themselves through health insurance and health care planning, and now serves as its executive director. To date, the organization has served 5,400 music-industry professionals and saved $16.1 million in health care costs.
Allsep credits Vanderbilt for helping piece together her life's purpose. Her love of people flourished through involvement in Alternative Spring Break, Kappa Alpha Theta sorority and other student organizations. "I gained a worldview not by going abroad, but by attending Vanderbilt with students from all walks of life," she says. "It's something for which I'm forever grateful."
She now enjoys giving back to Vanderbilt. Allsep will serve as party chair for the Class of 1997's 20th Reunion this fall, has been a guest speaker in the HOD department, recruits Vanderbilt students for MHA internships, serves as a CoRPs volunteer, and attends countless Commodore athletic events.
She also sees the value in giving back financially. "Annual gifts lay the foundation for future generations to enjoy the Vanderbilt experience," Allsep says. "To keep the spirit of what I experienced alive, giving back is necessary."
—JULIA STUMP
---