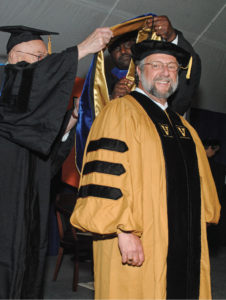 When Michael Caruso walked across the Commencement stage and received his undergraduate degree from Vanderbilt in 1972, pursuing a Ph.D. seemed unlikely.
Despite falling in love with philosophy after taking an introductory course with Centennial Professor of Philosophy John Lachs his sophomore year and declaring it his major, he put his focus on philosophical studies on the back burner to pursue a career in medicine.
"I applied to medical school and never looked back," Caruso says, "but I continued to have this love of philosophy throughout my career."
After finishing medical school, Caruso went on to have a successful cardiology practice in his hometown of Huntsville, Alabama. It wasn't until 2007, when his youngest daughter was preparing to graduate from Vanderbilt, that his attention returned to philosophy.
"When I began to get older and think about the rest of my life, I seriously started to think about returning to school," says Caruso.
Eventually, he decided to pursue a Ph.D. in philosophy, and Vanderbilt was the only place he even considered going. "I knew Vanderbilt and loved it," he says. "Going back to Vanderbilt felt like going home."
While the campus environment had changed since Caruso's time as an undergraduate, several faculty members in the philosophy department were still there—including Lachs, the man who first sparked his passion for philosophy 37 years earlier.
"Lachs helped me get through some rough patches, when it seemed like it was too hard and I wasn't sure I belonged," explains Caruso. "He was always there to keep my head in the game, and we developed a special bond."
Caruso graduated with his Ph.D. in philosophy in 2016, and today he uses what he learned to teach ethics to medical school students. He stays connected to his alma mater through his involvement in the Alumni Association and was instrumental in having Lachs come to Huntsville to speak to its alumni chapter.
Ultimately, Caruso hopes his return to the classroom later in life inspires other Commodores. "Most people think it is beyond their capabilities or imagination," he says. "In fact, imagination is all it takes to embark on a whole new chapter in one's life."
—NICOLE SMITH, BA'07
---