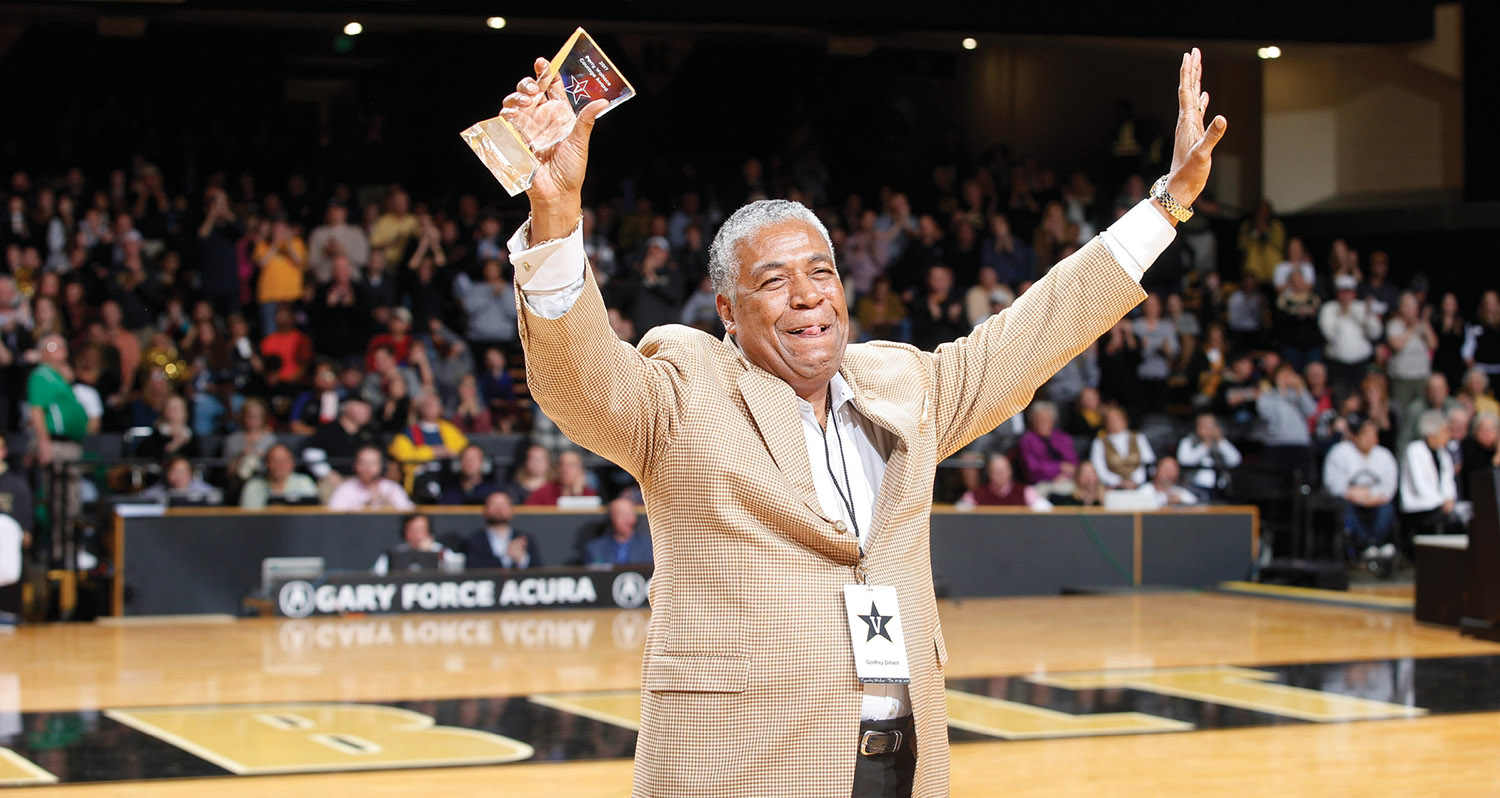 Simply celebrating Black History Month wasn't enough for David Williams and Vanderbilt athletics.
"We took the position that, yes, we are going to celebrate, but we also are going to honor and educate," says Williams, vice chancellor for athletics and university affairs and athletics director.
The product of Williams' vision was Equality Weekend, a three-day event that honored 21 of Nashville's civil rights leaders and celebrated the 50th anniversary of Vanderbilt's breaking the SEC color barrier with men's basketball players Perry Wallace, BE'70, and Godfrey Dillard. The 21 leaders were honored at the Commodore men's basketball game Feb. 18 and the women's game Feb. 19—both of which were Vanderbilt victories.
"As an institution dedicated to the ideals of inclusivity, diversity, and celebrating the full potential found in each member of our community, we are forever indebted to those whose unwavering pursuit of civil and human rights has helped lead the way to a more just world," says Vanderbilt Chancellor Nicholas S. Zeppos.
Dr. André L. Churchwell, BS'75, Vanderbilt professor and son of the late Robert Churchwell, a veteran of World War II who became one of the leading black journalists in the South, says the celebration was a mark of how far the city and university have come in healing the racial wounds of the 1960s.
"It's a great day when Nashville and, more important, Vanderbilt—such a magnificent international university sitting in the middle of this cauldron—reaches out and acknowledges African Americans who pushed civil rights forward for the whole city," Churchwell says. "Despite whatever challenges we still face in the country around race, we've come a mighty long way."
Churchwell is the Levi Watkins Jr., M.D., Professor of Medicine, senior associate dean for diversity affairs in the School of Medicine, and chief diversity officer at Vanderbilt University Medical Center.
To help commemorate the event, the men's and women's players wore special-edition "equality" uniforms made by Nike that featured the name of an honoree on the back of each jersey.
"It was an awesome thing, each one of us representing someone greater than ourselves and greater than Vanderbilt," says Luke Kornet, a graduating senior on the men's team who proudly wore the "Wallace" jersey. "These leaders impacted so many lives. It made the whole day that much more special."
One of the many highlights of the weekend came during halftime of the men's game, when Dillard was the surprise recipient of the Perry Wallace Courage Award.
"I have gotten awards in my life, but I have to admit … this tops it all," says Dillard, who attended Vanderbilt as a scholarship basketball player as a freshman in 1966–67 before transferring to Eastern Michigan. He went on to become a U.S. State Department diplomat, attorney and judge. "My Vanderbilt experience had so much to do with my formative years and led me to who I am today."
Stephanie White, Vanderbilt's first-year women's basketball coach, said the weekend offered an invaluable opportunity for her players to gain a better appreciation of the city that has become their home away from home.
"For our student-athletes to learn about the civil rights movement in Nashville is truly an honor, and we are so grateful to be part of it," White says. "Everything we do, day in and day out, as coaches and teachers and leaders, is to prepare future leaders."
Churchwell summed up the weekend in appropriate fashion—and not just because the men's team beat South Carolina 71–62 and the women's team topped Ole Miss 85–67: "The 'V' of Vanderbilt maybe," he says, "to some extent, points to victory in social justice."
—MITCH LIGHT, BA'93
---