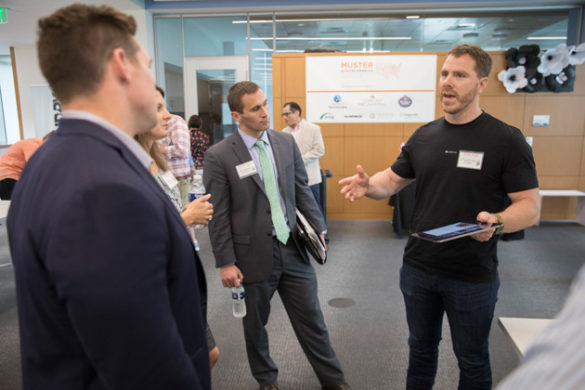 Neil Whitney enjoyed the ideal physique – one shaped by tough Army drills and long days spent running from crisis to crisis as an intelligence officer – before a debilitating knee injury forced him off his feet and under the knife for eight surgeries. With each weigh-in, the toll on the rest of his body became more apparent.
Thirty-five pounds overweight, Whitney turned to a nutrition-expert friend who provided complicated recipes and tried educating him about macronutrients and carb balance. Overbooked and frustrated, Whitney finally said, "Just tell me what to eat!"
That exchange, a friendship with the Wond'ry's executive director, and entrepreneurial classes offered by a nonprofit that helps veterans turn ideas into companies led to Whitney's launch of Menud. The app lets hungry, overwhelmed users just eat wherever and whatever celebrity fitness trainers and athletes would. Contributors include fellow veteran and trainer to the stars Erin Oprea.
Whitney was among 13 veterans pitching their startups to prospective investors on campus Wednesday at Muster Across America, hosted by the national nonprofit Bunker Labs.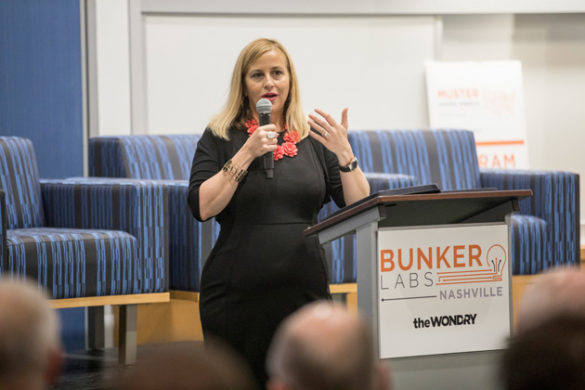 The event, which opened with a speech from Nashville Mayor Megan Barry, drew about 250 people to three floors of the Wond'ry and the adjacent Engineering and Science Building.
Last year, Whitney moved his startup, Proximity Aware LLC, from the San Francisco Bay area to Nashville. "The partnership with Bunker Labs, the Wond'ry and people across Nashville have helped connect Menud to the community," said Whitney, who most recently worked as a senior manager for enterprise software for Apple. "Now, I've mentored others at the Wond'ry, which I'll do again this fall."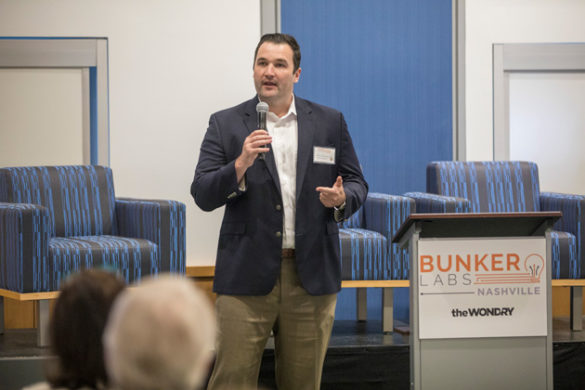 Robert Grajewski, Evans Family Executive Director of the Innovation Center at Vanderbilt University, said the Wond'ry, Vanderbilt's epicenter for innovation and entrepreneurship, hosted classes and events for Bunker Labs and provided additional mentoring for veterans. "There is no better group to give back to than our veterans, who fought for our freedoms," he said.
In her speech, Barry said her father served as a Marine and instilled the corps' values in his family. She said Bunker Labs Nashville has launched 32 companies and helped veterans make 500 connections.
"I have a huge respect that some of you stepped up and served when you were asked. That understanding of commitment comes back with you," Barry said. "Veterans are hard-working, disciplined and know how to handle adversity. They're leaders who are perfectly designed to be entrepreneurs, and Nashville is a city of entrepreneurs. It's the No. 1 place for women entrepreneurs to start a business."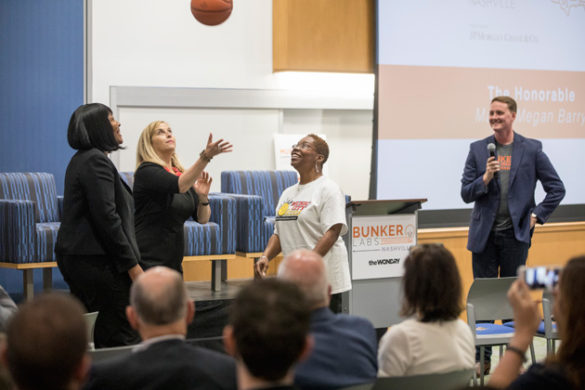 Demonstrating the point, Barry ended her time at the podium by serving as referee for a jump ball. The easy winner was Renee Bobb, whose startup is the Music City Icons women's semi-pro basketball team.
Another Bunker Labs alum, Kathleen O'Neill, helped coordinate the event through her Franklin startup, With You Concierge.
"I was in the fall Bunker Labs cohort at the Nashville Entrepreneur Center, but I also attended many of the spring cohort's events here at the Wond'ry," O'Neill said. "My hope for this year is to get my business off the ground and start employing other veterans or veterans' spouses.
"My motto is, if it's legal, I'll do it," she said.
Here is a full list of startups pitched at Wednesday's event:
Chuck Anderson, Death from a Bun
Marie Vasquez, Photo Booth Clarksville
Jerome Hardaway, Vets Who Code
Matt Carr, Bridge
Daniel Kutelski, Chalkline Sports
Dan Berry, Oaken Shell Meadery
Renee Bobb, Music City Icons
Kyle Willkom, Smart Choice Sitters
Mark Woods, Operation TROOP AID
Andrew Polinski, Wheel Coll
Neil Whitney, Menud
Stephen Davis, Ear.IQ
Kathleen O'Neill, With You Concierge
The pitch competition winners were Willkom, first place; Vasquez, second place; and Berry, third place.