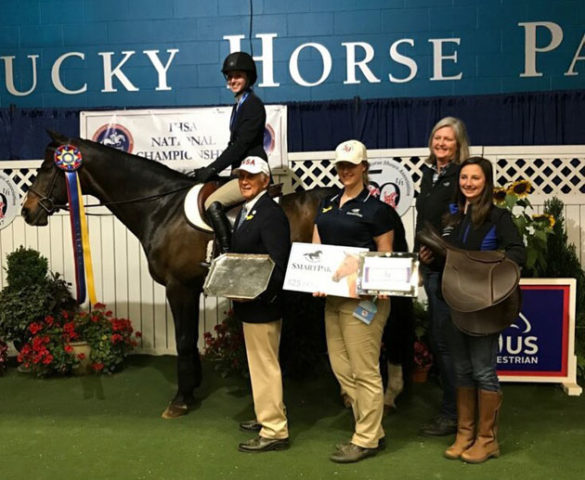 Caroline Biggs, a rising junior from Knoxville, Tennessee, studying human and organizational development, won the 2017 National Championship for Individual Novice Flat at the Intercollegiate Horse Show Association competition in Lexington, Kentucky.
The Vanderbilt Equestrian Team is a club sport team that competes in IHSA competitions. This year, VET practiced at Hunter's Court in Murfreesboro, Tennessee, and was coached by Janelle Harcus. The team welcomes riders from all backgrounds and levels of riding experience. As a team, VET has won their region, qualified for zones the past three years in a row, and sent numerous riders on to regionals, zones and nationals as individuals.
However, winning an IHSA National Championship title is an honor the Vanderbilt Equestrian Team is experiencing for the first time. IHSA competitions are unique in that riders don't compete on their own horses. The competing teams at any given show are responsible for bringing a few horses to be used, and each rider randomly draws a horse from this group with which to compete. Because of this, IHSA competitions test a rider's ability to adapt and ride an unfamiliar horse as well as provide the opportunity for riders to compete without having to own a horse of their own. Biggs had the honor of riding a horse named Signature that came to the competition from Shreveport, Louisiana.
Biggs' specific event in the IHSA competition consisted of flatwork. Competitors are responsible for displaying basic movement of a horse such as walking, trotting and cantering in different patterns.
"Being the first national champion for VET is a huge honor," Biggs said. "Our team is very competitive in our region, and we have a lot of talented riders who have been successful in both IHSA and other competitions on personal horses. We have made it to zones several times as a team but never all the way to nationals, and while we have had some members make it to nationals as individuals, we've never come home with a win.
"I'm excited to have brought an IHSA national title to Vanderbilt and hope I've paved the way for many other national champions from VET in the future," she said.
Contact: Alena Colborn
alena.colborn@vanderbilt.edu