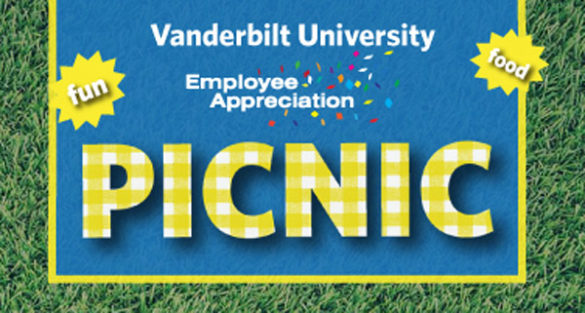 Vanderbilt's annual Employee Appreciation Picnic is scheduled for Tuesday, May 16, from 11 a.m. to 2 p.m. on Library Lawn. Famous Dave's will be catering the event, and the menu will include grilled chicken breasts, veggie burgers and all-beef hot dogs as well as side options including creamy coleslaw, potato salad and freshly baked chocolate chunk cookies for dessert.
This year's Employee Appreciation Picnic will host a number of new vendors, and employees will have opportunities to enter drawings and win prizes. A DJ from FADD's Entertainment will be on hand to keep the energy high while you and your colleagues compete in the limbo, hula hoop and air guitar contests.
The Employee Appreciation Picnic is just one of many events in which Vanderbilt University has an opportunity to show gratitude to the employees who contribute to its success. Come to Library Lawn on Tuesday and enjoy the day with your colleagues.
Be sure to share your news and photos on Facebook, Instagram, Tumblr and Twitter using #vupicnic to add it to our online collection.