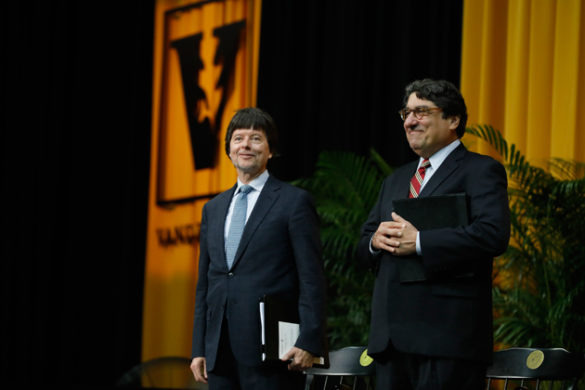 Find and follow "the better angels of our nature," historian, filmmaker and Nichols-Chancellor's Medal winner Ken Burns urged Vanderbilt graduating seniors during his Senior Day address.
"Our world is chaotic," Burns said. "We know all of us are mortal. That means none of us gets out of this alive. So human beings in every era seek always to superimpose some frame, some order on that randomness of events to find some meaning in it all."
Burns was introduced by Chancellor Nicholas S. Zeppos, who said he had watched all of Burns' documentaries, some of them multiple times. Burns spoke May 11 in Memorial Gymnasium to graduating students, their friends and family. He was preceded by words from Perry Brandt, president of the Vanderbilt Alumni Association, and Julia Gabriel, overall chair of the Senior Class Fund. Gabriel announced that 77 percent of graduating seniors had contributed to the fund.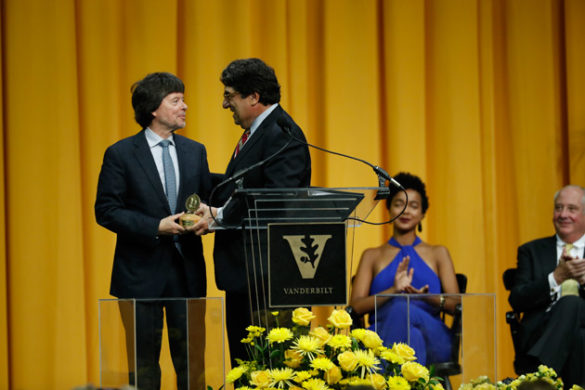 Burns was awarded the Nichols-Chancellor's Medal for individuals "who define the 21st century and exemplify the best qualities of the human spirit." The medal was created and endowed by Vanderbilt Law School graduate Ed Nichols and his wife, Janice, in honor of Edward Carmack and Lucile Hamby Nicols.
Senior Day is followed May 12 by Commencement, where Zeppos delivers the traditional sendoff address. About 3,000 graduates were expected to attend Commencement. About 1,716 undergraduates and 2,169 graduate and professional students were set to receive diplomas.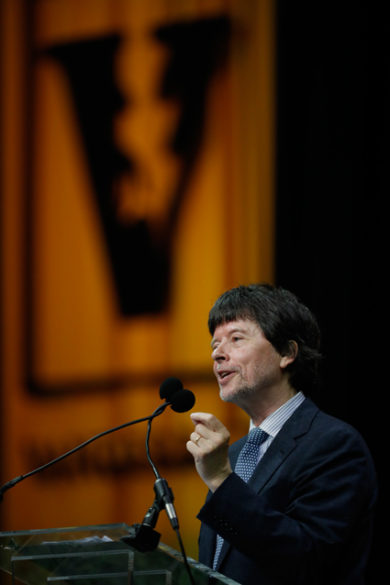 Burns, who has produced and directed landmark multi-part documentaries on the National Parks, baseball, jazz, the Civil War and other aspects of America, said that a keen sense of history could reveal "the way human beings are."
"Sometimes that human nature is reassuring and inspirational," he said. "Sometimes it is unsettling and dark. But it is always useful."
Envision what their descendants 10,000 years from now will think of them, Burns requested of the graduates.
"Let us hope that at least they will give us the benefit of the doubt, that they believe we have honestly striven in our day and generation to preserve for our descendants a decent land to live in and a decent form of government to operate under."
Quoting from Abraham Lincoln's first inaugural speech, Burns said we must let "the better angels of our nature" prevail.
"We live in a superficial media culture, with its equally superficial conventional wisdom about everything, and its stultifying addiction to conflict," Burns said.
"My own life's work has been … an attempt to reveal those better angels to my neighbors, my fellow citizens, to you."