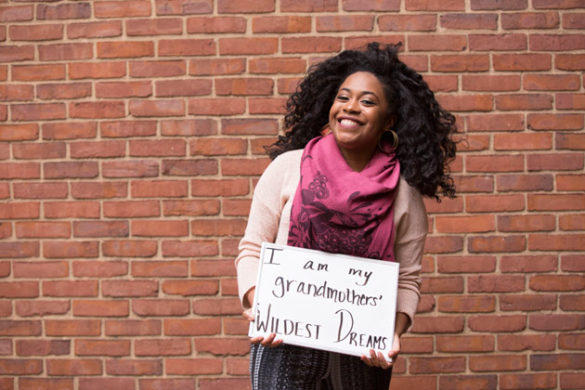 As the Commodore football team rested before the second half of the 2016 homecoming game against Tennessee State, a circle of women formed in the student section at Vanderbilt Stadium. They were praying.
It wasn't necessary to ask for God's help with the game. Vanderbilt won handily, 35-17.
At the center of the circle was student activist Akaninyene Ruffin, one of the nominees for Outstanding Senior, who was about to go on the field and find out if she had won. The medicine, health and society and African American and diaspora studies double major from Montgomery, Alabama, was anxious.
"I was a nervous wreck," Ruffin said. "I don't lose well. I don't have a poker face. If I lost, they were going to have me on the Jumbotron looking nasty."
Sensing Ruffin's discomfort, her friends formed an impromptu prayer circle and asked God to give her serenity. "They said, 'It's all going to work out,'" Ruffin recalled. "They calmed me down."
As it turned out, she did win. Ruffin was announced as Vanderbilt's Outstanding Senior for 2016-17. She had come a long way from freshman year, when she struggled to make friends and suspected her African American heritage rendered her invisible to some of her peers.
"There would be situations when I would sit in a classroom, and the seats on either side of me would be the last to fill up," Ruffin said. "When the girls in the hall were starting to make friends and go out with each other, I was never invited to go."
Isolated and lonely, Ruffin nearly dropped out. But her aunt suggested a new approach to making friends. Ruffin invited everyone she knew to watch the television show Scandal each week in her dorm room. Two or three students turned out for the first viewing. By the end of the semester, she had a core group of eight to nine close friends.
"[rquote]It became less about forcing other people to see me and more about finding people who already did,"[/rquote] she said. "Vanderbilt gave me the future godmothers of my children."
Ruffin further increased her profile on campus through student organizations. She started with the Voices of Praise gospel choir and the Multicultural Leadership Council, becoming president of the latter organization. By junior year, she was the lead facilitator of Hidden Dores, an activist organization dedicated to improving the experiences of students of color on campus.
Under Ruffin, Hidden Dores became one of the university's most visible student groups, most notably leading a diverse coalition of students in organizing and delivering a petition to Chancellor Nicholas S. Zeppos in fall 2015 advocating for improved mental health services, curriculum, staff, accountability and policy for students of color at Vanderbilt.
After graduation, Ruffin plans to put her medicine, health and society degree toward a career in nursing.