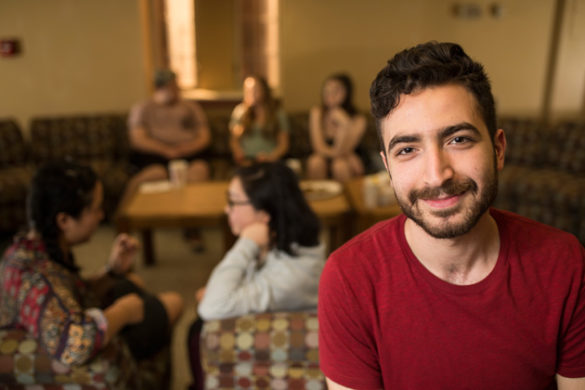 Growing up in Homs, Syria, Musbah Shaheen excelled in science, eventually enrolling at Damascus University Medical College at 17. After two years, he wanted to "stow away" that chapter of his life in the war-ravaged nation and explore something different. Shaheen was determined to start his college experience over. An adviser with EducationUSA, a Department of State network of international student advising centers, recommended he apply to Vanderbilt.
Leaving most of his family members behind—his parents are physicians in Syria—Shaheen came to campus searching for a sense of belonging. He found it sophomore year as a resident adviser in McGill Hall, a living and learning community. "McGill is a supportive community that attracts a special group of students who are looking for their home on campus, a lot like I was," Shaheen said. Over the past two years, he has served as the head resident at both McGill and Tolman halls.
Shaheen also found purpose as a tour guide for Undergraduate Admissions. "I strive to be real during my conversations with prospective students and their families," he said. "[rquote]I tell them that you can accomplish great things at Vanderbilt and have fun, and there's a strong network of caring people who will be there for you through the bad times, too."[/rquote]
A double major in molecular and cellular biology and piano, Shaheen remembers the first time he played for Karen Krieger, associate professor of piano and piano pedagogy at Blair School of Music. He previously had played for enjoyment but had no formal training in technique or musical theory before Krieger's instruction. "She told me that she could hear my heart," Shaheen said. "There was something about her approach that was very comforting. It was cool to progress from 'I don't know what a key signature is' to giving a senior recital at Blair."
He also enjoyed working in Vanderbilt's research labs. "I had a full-circle immersive experience while working in a lab on HIV," Shaheen said. He participated in Alternative Spring Break trips with the AIDS Action Committee and took the class "HIV/AIDS in the Global Community," taught by JuLeigh Petty, assistant director of the Center for Medicine, Health and Society. In addition, he served as a peer sex educator at the Margaret Cuninggim Women's Center.
"It was wonderful to put all this together—the science, the stigma and the social construction of HIV," said Shaheen, who credits Petty with helping the students step outside their comfort zones for in-depth discussions. "That's the core of a liberal education."
Following graduate school, Shaheen hopes to return someday to Vanderbilt as an administrator in higher education and student affairs. "I want to dedicate my professional life to the development of college students," he said.