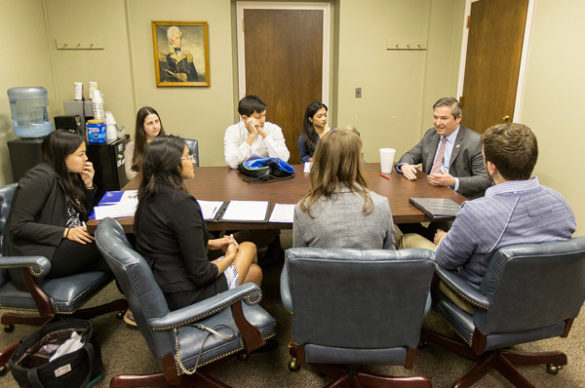 by Christian Anderson
Students participating in the first year of University Courses gave the initiative high marks, noting that the cross-campus curriculum created unique opportunities for students to tackle important subjects in innovative ways.
University Courses, a product of the 2014 Academic Strategic Plan, are designed to advance trans-institutional learning. The initiative encourages Vanderbilt faculty to reach across the boundaries of their schools and colleges to collaborate on course ideas and then team-teach the class, allowing students to study timely topics through diverse and distinct perspectives.
All of the University Courses offered this academic year—two in the fall and two more in the spring—reached full enrollment. Feedback from the 80 students enrolled has been overwhelmingly positive. A student in the Tackling Big Problems with Mobile Cloud Computing course last fall said, "The class was undoubtedly a defining moment in my college experience. The volume of cross-college interaction between varying disciplines and professional levels would not have transpired without the structure this course provided."
Six new courses have been approved for the 2017-18 academic year—two will be offered during the fall semester and four in the spring. Highlights from the first year of the program can be found below.
Historic Black Nashville, co-taught by Jane Landers, the Gertrude Conaway Vanderbilt Professor of History, and law professor Daniel Sharfstein, who holds the Tarkington Chair in Teaching Excellence, explored the underdeveloped history of black Nashville from settlement to the early 20th century. Through instructor and guest lectures, digital humanities education, site visits and independent research in local archives, students were able to recover and document the lives of the city's enslaved and free people of color as well as the community institutions and social and artistic movements that defined the black experience in Nashville. Students took trips to the Hermitage, Fort Negley and the Nashville Public Library. The course fostered spirited, thought-provoking class discussions that resulted in, as one student described, "a memorable, life-altering experience for all involved."
Led by Doug Schmidt, the Cornelius Vanderbilt Professor of Engineering, and Jules White, assistant professor of computer science, Tackling Big Problems with Mobile Cloud Computing engaged students across a broad range of disciplines and provided them with hands-on experience, a deepened understanding of the key mobile cloud computing techniques, and tools and principles needed to tackle big questions. Students formed teams and worked with real-life clients to provide mobile cloud-based solutions to problems. Some of the more advanced teams took their mobile applications to the next level by working with experts in the Pre-Flight program at the Wond'ry. This fall course was so successful that it was offered a second time during the spring term and will be available for a third time this fall.
Justice, Mercy and Mass Incarceration, taught by Graham Reside, assistant professor of ethics and society in the Divinity School, and Ed Rubin, University Professor of Law and Political Science, examined mass incarceration through the lenses of law and religion together, equipping students with a deeper understanding of the causes and consequences of our current system. Open exclusively to graduate students, this course explored the legal structures and justifications that create mass incarceration and the moral and theological arguments provoked, and encouraged students to become advocates for change through policy, law, outreach and activism. Students expanded their learning through a visit to the Public Defender's Office and a local prison, a series of movie nights and several guest speakers.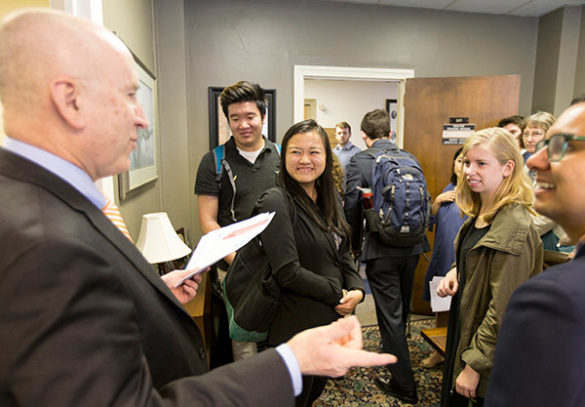 The Nation's Health: From Policy to Practice, led by Gilbert Gonzales, assistant professor of health policy, and Tara McKay, assistant professor of medicine, health and society, prepared students to become effective participants in policy debates by immersing them in the health policy environment and critically addressing taken-for-granted ideas about health. The course brought together studies of the policy process at multiple levels of government with social science scholarship on health disparities, policy advocacy and health social movements. On the day of Gov. Bill Haslam's State of the State address, students visited the State Capitol during demonstrations and rallies to observe the politicians' response to public engagement on health issues. Later in the semester, the students returned to the State Capitol to meet with legislators and aides to discuss health policy and observe committee meetings. Students also wrote op-ed pieces and policy briefs and learned how to engage with lawmakers.
For behind-the-scenes insights into University Courses offered this year, visit VU BreakThru to read blog posts by students and faculty.