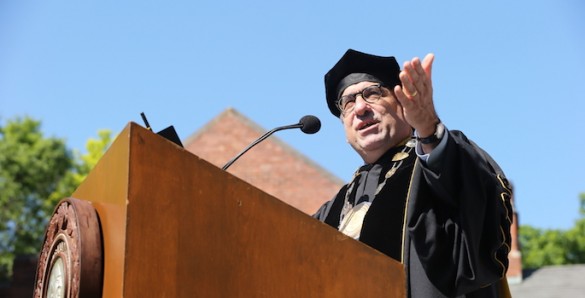 Chancellor Nicholas S. Zeppos will deliver Vanderbilt University's traditional Commencement address May 12, the day after documentary filmmaker Ken Burns accepts a prestigious Vanderbilt award and offers his advice.
The Commencement ceremony for all graduates is scheduled from 9 a.m. to noon Friday, May 12, on Alumni Lawn. Undergraduates will receive their degrees following the chancellor's address. Graduate and professional school degrees will be conferred at other locations on campus after those students leave the central ceremony at 10:15 a.m.
For those who prefer to watch indoors, Commencement will be screened live in Rand Hall, Sarratt Cinema, the Old Gym and Neely Auditorium. In the event of inclement weather, Commencement will be moved to Memorial Gymnasium. Commencement and Nichols-Chancellor's Senior Day ceremonies will be webcast on the Vanderbilt home page, the Vanderbilt Facebook page and the Vanderbilt YouTube page.
About 2,950 graduates are expected to attend Commencement. Degrees will be awarded to about 1,730 undergraduates and 2,170 graduate and professional students. Guests and family members of graduates are invited to Commencement and Senior Day activities, which are free.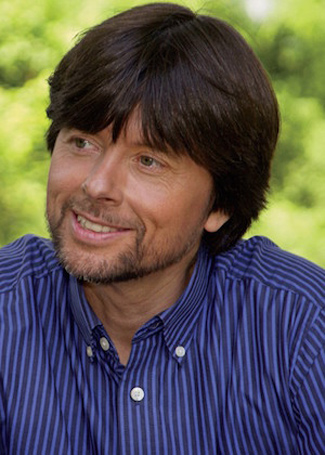 Burns, auteur of documentaries on baseball, jazz, the Civil War and other American history subjects, will speak at 11 a.m. May 11 in Memorial Gymnasium about "Heroes and Leadership." He has won 15 Emmy Awards, two Grammy Awards and has had two Academy Award nominations for his films.
Burns will be presented with the Nichols-Chancellor's Medal, one of Vanderbilt's highest honors. It is given each year to an individual who defines the 21st century and exemplifies the best qualities of the human spirit. The medal, which includes a cash prize, was created and endowed by Vanderbilt Law School graduate Edward C. Nichols Jr. and his wife, Janice, in honor of Edward Carmack and Lucile Hamby Nichols. Previous winners in recent years include Doris Kearns Goodwin, Toni Morrison and Tom Brokaw.
Four free faculty seminars will be held in Wilson Hall the afternoon of May 11 – two at 2 p.m. and two more at 3:15 p.m. The topics are historic black Nashville, mobile cloud computing, mass incarceration and health policy.
Graduates and guests attending Commencement are invited to share their Commencement messages using social media. Tweets, Instagrams and Facebook posts can be tagged #VU2017. All social media activity surrounding Commencement – tweets, posts, photos, videos and more – will be collected on Vanderbilt's Get Social website. A Commencement app can be downloaded from the Vanderbilt Commencement website.