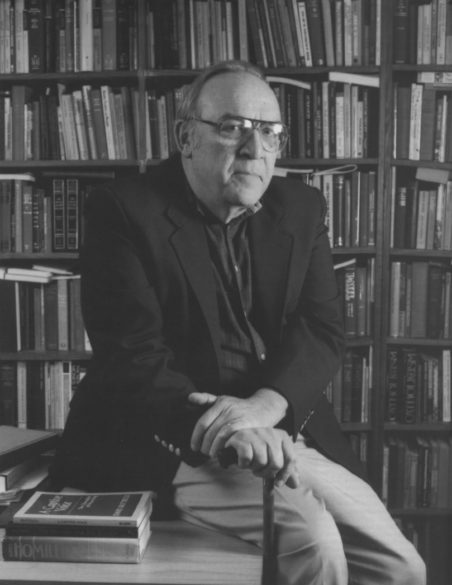 David G. Buttrick, a Vanderbilt Divinity School emeritus professor who was passionate about the art of preaching, died April 22 in Nashville. He was 89.
The David G. Buttrick Certificate Program in Homiletic Peer Coaching, which strives to train preachers and improve the quality of preaching, was named in his honor in 2015.
Buttrick, the youngest son of the Rev. George A. Buttrick and his wife, Agnes Gardner, was born in New York City in 1927. He earned a bachelor of arts from Haverford College in 1948 and a bachelor of divinity from Union Theological Seminary in 1951. He also did graduate study in systematic theology at Garrett Biblical Institute and in poetics and contemporary literature at Northwestern University.
He married Betty More Allaban in 1950. Buttrick was ordained by the Presbytery of New York City in 1951 and served as pastor of the First Presbyterian Church of Fredonia, New York, from 1951 to 1960. After nine years in the ministry, he accepted a short-term appointment with his denomination's Board of Christian Education.
In 1961, he joined the faculty of Pittsburgh Theological Seminary, where he taught for 14 years. He then became Marten Professor of Homiletics at the St. Meinrad School of Theology.
In 1982, Buttrick moved his family to Nashville to lead a new initiative at Vanderbilt Divinity School and the Graduate Department of Religion. At that time, the faculty had decided to create a model program that would infuse and combine preaching and worship with other disciplines in the curriculum. Because of his competencies in critical biblical study and in historical and constructive theology, as well as in homiletics, liturgics, rhetoric and communication, Buttrick was chosen to undertake this effort.
While Buttrick was teaching theology, his wife became known for opening their home frequently to students for warm hospitality.
In a 1996 article in Vanderbilt Magazine, Buttrick was quoted about his belief that a new approach to preaching was needed to renew the church. He said, "Preaching must accept the challenge to reach the hearts and minds of people and regain the luster it has lost in the last several decades."
Buttrick made the decision to leave the presbytery and be received into the ministry of the United Church of Christ during the early 1990s. A letter from the president of Princeton Seminary about his denomination's stand at the time against the gay and lesbian community was a catalyst for Buttrick's action.
Buttrick always credited any courage he had on ethical and moral issues to his father, George Buttrick, who also was a Vanderbilt Divinity professor.
Buttrick was a prolific scholar, writing or editing more than a dozen books and numerous book chapters. He also published more than 175 articles and reviews. His path-breaking work Homiletic (Fortress, 1987) won book-of-the-year awards from Preaching Magazine and the Academy of Parish Clergy and was named book of the decade by Theological Education, the journal of the Association of Theological Schools in the United States and Canada. One of his more recent publications was Speaking Conflict: Stories of a Controversial Jesus (2007).
Buttrick was honored with a "Festschrift," meaning a book compiled to honor the lifetime contributions of a professor, with original essays from the faculty member's former students and colleagues. The collection of essays was published by Westminster/John Knox in 1996 as Preaching as a Theological Task: World, Gospel, Scripture.
Buttrick served as the 1999 Cole Lecturer at the Divinity School, speaking on "Social Dreaming and the Impudence of Preaching" and "Preaching and Partying."
He was a consultant on worship to the Commission on Church Unity and to several Protestant denominations. He also served on the National Conference of Catholic Bishops' ad hoc committee on the homily.
Betty Buttrick preceded her husband in death in 2015. Their daughter, Anne Crumpler, died last year. They are survived by their son-in-law, David Crumpler; and two grandchildren, Rachel and Benjamin.
A memorial service will be held at noon Saturday, April 29, in Benton Chapel. In lieu of flowers, the family requests that contributions be made to Church World Service, North Shore Animal League, Vanderbilt Divinity School or Brookmeade Congregational Church.