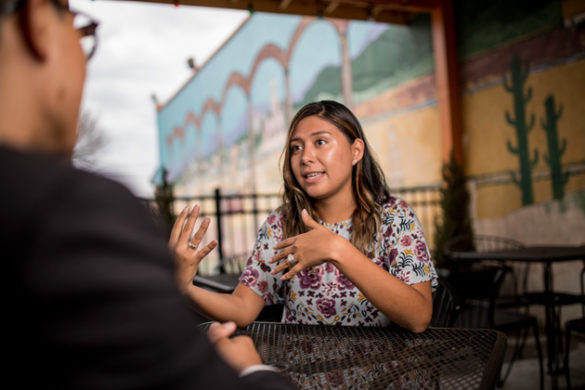 The current discourse in this country about immigration policy and reform is much more than political rhetoric for Melissa De La Torre.
Born in California but reared for most of her youth in her family's home country of Ecuador, the public policy and sociology major was deeply influenced by the immigration challenges her parents faced. They ultimately emigrated from Ecuador to Queens, New York, enduring an uphill climb to citizenship. As a result, De La Torre has been inspired to pursue the study of human rights and immigration law worldwide.
"I saw my parents trying to fix their status and realized how difficult, expensive and mentally draining the process can be," she said. "In New York, because we have such a dense immigrant population, there's an oversupply of lawyers who make a lot of empty promises about citizenship and take advantage of people. [rquote]My parents tried to follow this process that everyone thinks is so easy—but it's not."[/rquote]
De La Torre came to Vanderbilt with a full-tuition Posse Foundation Scholarship, nominated for the honor by a nonprofit with which she worked in high school that teaches at-risk youth how to empower themselves to be leaders in their communities.
At Vanderbilt, she has been active with the Multicultural Leadership Council and the Vanderbilt Association of Hispanic Students and has served as a VUceptor student mentor. She credits the university with providing opportunities for her to explore firsthand her passions: immigration reform, education and research.
Through Vanderbilt's Office of Active Citizenship and Service, she traveled to South Africa to work with schoolchildren and learn about the country's educational system. She later took a course about the stigma of HIV and AIDS, which led to a trip back to South Africa to work with children affected by the disease. She studied abroad in France at the Paris Institute of Political Studies, focusing on immigration and the externalization of borders. And a few weeks after graduation—once again through OACS—De La Torre leaves for Morocco, a frequent stopover point for Africans immigrating to the European Union, to study that nation's immigration network.
Locally she has worked with the Tennessee Immigrant and Refugee Rights Coalition, a statewide organization whose mission is to empower immigrants and refugees to find their voices and defend their rights. Undecided whether to pursue a law degree or a Ph.D. after leaving Vanderbilt, De La Torre plans to take the coming year to weigh her options.
Meanwhile, De La Torre continues her campaign to promote understanding. "I believe with all the advocates and others who want immigration reform (that) in the future it will happen—but if we stay quiet and don't talk about it, nothing's going to change," she said.
"For now we need to open our hearts, be good listeners and hear immigrants' stories, and see them as humans," she said. "At the end of the day, no matter what your circumstances are or what my circumstances are, we're both human beings. That's what I want people to understand."