National diversity expert speaks May 3 on going beyond rhetoric of equity and opportunity
by
Nancy Wise
Apr. 19, 2017, 8:39 PM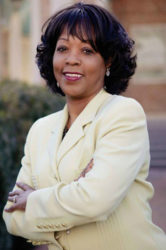 The University of North Carolina at Chapel Hill's interim chief diversity officer will present a talk Wednesday, May 3, from 12:30 to 2 p.m. in Godchaux Nursing Annex, Room 161, in the Vanderbilt University School of Nursing. Lunch will be provided but requires an RSVP.
G. Rumay Alexander is also professor and director of the Office of Inclusive Excellence at the UNC-Chapel Hill School of Nursing and special assistant to the university's chancellor. Alexander, who earned her master of science in nursing at VUSN, will present "Equity of Opportunity: Beyond the Rhetoric." Her lunchtime presentation will be followed by a question- and-answer session.
Her visit is co-sponsored by the VUSN Dean's Office and the Vanderbilt Office for Equity, Diversity and Inclusion.
Alexander is a leader and advocate for diversity, inclusiveness and equity in academia, professional organizations and the workplace. She helps organizations and individuals explore marginalizing processes, multiple perspectives, and differences in lived experiences as a means of facilitating systemwide change. Alexander is known for her passion for equity of opportunity and a penchant for holding courageous dialogues.
She has served on the American Hospital Association Commission on Workforce, the board of the American Organization of Nurse Executives, the board of governors of the National League of Nursing, and the National Quality Forum Nursing Care Performance Measures' Steering Committee. She chaired the AONE Diversity Council and has been a member of the AHA's Leadership Circle of Eliminating Racial and Ethnic Disparities in Health Care. She speaks nationally on the issues of the health care workforce, diversity and strategic planning.
Alexander earned a bachelor's degree from the University of Tennessee–Knoxville, her MSN from VUSN, and a doctor of education degree from Tennessee State University.
This is the first of two diversity lectures sponsored by the School of Nursing in May.
On Thursday, May 11, Nilda (Nena) P. Peragallo Montano, dean of the School of Nursing at the University of North Carolina at Chapel Hill, will speak on "Cultural Considerations for Research and Practice with Latino Population." Her presentation will be part of the VUSN Dean's Diversity Lecture Series. That lecture will be from 2 to 3 p.m. in Nursing Annex Room 161.