Bridgette Brown came to Vanderbilt for a world-class education but, in addition to finding a new home, she also discovered herself.
"Taking classes in the African-American Diaspora program opened my eyes. Professor Tracy Sharpley-Whiting was challenging and amazing, and I learned that I didn't know as much about myself and my history as I thought I did. My experiences here changed how I viewed myself and how I fit in the world," Brown said.
Brown says she came to Vanderbilt ready for a change in perspective, but unsure how much diversity she would find.
"I felt if I stayed in Arkansas, I would only see one side of the world, and it was a side I already knew. I was excited to meet people here who were different than me," she said.
"For example, at home I had never really known someone who was Jewish, but at Vanderbilt I have taken classes in Jewish history and met people that I would never have been exposed to if I had not left."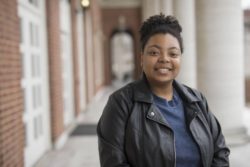 Brown feels like racial representation and exposure to different people, ideas and viewpoints is important for her future career as a middle school teacher.
"One of the many reasons that I would like to become a teacher is because of the importance of representation. As a student in middle and high school, I did not have very many teachers who looked like me. I want students of color to see teachers who resemble them and be able to see themselves reflected in administration," she said.
Brown's scholarship is vital not only to her dream of teaching and leadership, but also in freeing her from student loan debt.
"My state school offered me support in the way of loans, but with Opportunity Vanderbilt, I don't have any loans. Also, the student housing at Vanderbilt is very equal, so there is no caste system with some halls being more expensive. I loved The Commons and having different kinds of people all living together," she said.
She also appreciated the discussion series her residence hall recently hosted called Get Uncomfortable —monthly conversations to promote change around sensitive topics such as gender roles, racial diversity and socioeconomic diversity.
Peabody Bridges, a group that Brown helped start, helps under-represented education students find and use existing resources, such as tutoring and formalized study sessions, and also hosts networking events for all Peabody majors.
Through her sorority, Delta Sigma Theta, Brown also mentors young girls of color and helps deliver education programs to low-income Nashville schools.
Author James Patterson, whose mother was a teacher and librarian, funded the Patterson Scholars in 2009 to assist students like Brown.
"I want to help students who not only have financial need but who also have a strong commitment to school community service while studying to be teachers or education policy leaders," Patterson said. "It is important to help our most passionate and talented students to focus on education reform. These are the bright minds that will create new ideas and strategies to address the challenges we face."
Beyond finding fulfilling community outreach and fascinating classes, Brown says that most of all, she has a found a home here at Vanderbilt with friends who are more like family now.
"I used to always go home for breaks, but this year, I didn't. My mom and I are very close, but it was OK that I didn't go back to Arkansas. She was happy for me, instead of being sad about missing me. She knows I am home here now," Brown said.