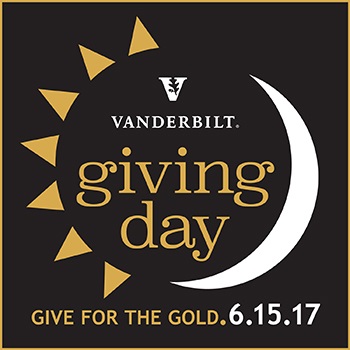 On June 15 the Vanderbilt University community will celebrate its second annual Giving Day—a 24-hour online campaign that will allow Commodores across the globe to "give for the gold" and invest in the university's mission to educate, discover and lead.
The day will build off the success of last year's inaugural Giving Day, during which thousands of people rallied together to provide $1.6 million to support Vanderbilt. That's enough to fund full-tuition scholarships for about 36 students.
"Giving Day 2016 was incredible, and it set a new Vanderbilt tradition in motion," says Kyle McGowan, assistant vice chancellor for annual giving. "We can't wait to see what our alumni, students, parents, faculty, staff and friends will achieve this year."
With a goal of 5,000 donors in a single day, this year's Giving Day will offer donors the opportunity to make a gift of any size to the area of campus that is most meaningful to them. Gifts made on June 15 will go to work immediately to fund things like scholarships, student initiatives, study-abroad opportunities, and outfitting classrooms with the latest technology.
"Each member of the Vanderbilt family plays an integral role in our continued success," McGowan says. "It really does take a village to sustain the university we all know and love. Gifts large and small combine to make a big and meaningful impact for today's students and future generations."
In addition to making a gift, alumni and friends are encouraged to spread the "give for the gold" spirit by posting to social media using the hashtag #give4thegold and sharing the excitement of the day with their networks.
"I'm proud to be a part of the Vanderbilt community, and I know others are, too," says Rebecca Chong, BA'16, Vanderbilt Alumni Association board member and young alumni leader. "Giving Day is the perfect time for us all to join together and show our gold."
Contact: Nicole Smith, Development and Alumni Relations Communications
(615) 343-1415