---
---
Vanderbilt University Chancellor Nicholas S. Zeppos interviews Jerry Wilmink, founder and CEO of WiseWear Corporation, on the fourth episode of The Zeppos Report podcast.
A Vanderbilt biomedical engineering alumnus (bachelor's, master's and Ph.D.) and self-described "mad scientist," Wilmink also has experience as an inventor, startup business consultant for venture capital firms and program manager for the Department of Defense's $2 billion Small Business Innovation Research program.
The chancellor sat down with Wilmink while the engineer-turned-entrepreneur was on campus to deliver the School of Engineering's Chambers Family Entrepreneurship Lecture.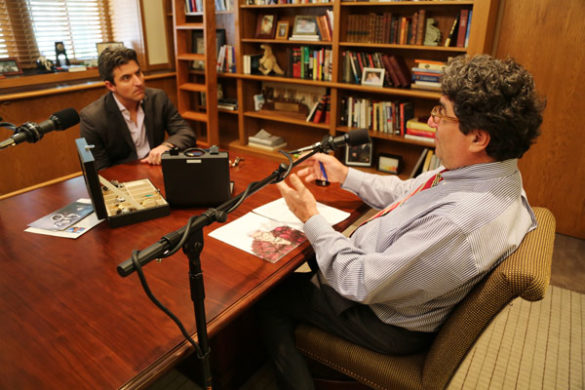 In the podcast, Wilmink discusses his journey from engineer to entrepreneur, the deeply personal reason he launched his company, and the successes and pitfalls he encountered along the way. He also explains the marriage of technology and fashion behind WiseWear's flagship line of "smart" luxury jewelry that comes with distress messaging, mobile notifications and detailed health and wellness activity tracking.
The Zeppos Report features Vanderbilt faculty, students, staff and alumni as well as other engaging individuals on topics that range from politics to pop culture.
New episodes of The Zeppos Report will be posted regularly during the academic year.
The podcast is available on SoundCloud, Stitcher, YouTube, Google Play, iTunes,  and The Zeppos Report website.