Media Inquiries
Latest Stories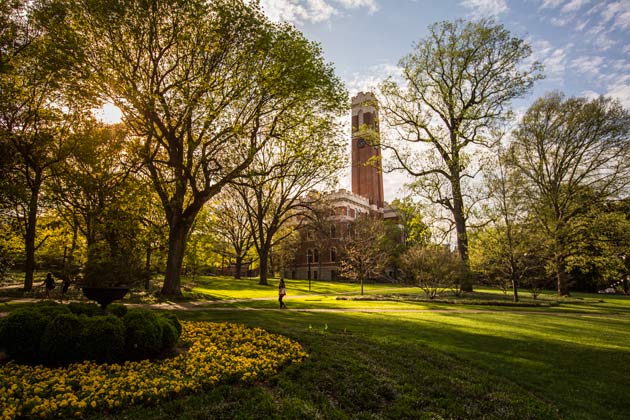 by Alexandra Valnoski
A $5 million gift from alumnus John Arnold and his wife, Laura, will bolster public policy studies and civic engagement at Vanderbilt University's College of Arts and Science. The gift will create an endowed fund to support the Program in Public Policy and its major in public policy studies, as well as a proposed new major and program in quantitative social sciences.
"We are delighted to partner with the Arnolds in preparing talented students to tackle major societal problems," said Chancellor Nicholas S. Zeppos. "Laura and John's generosity will fuel important efforts to inspire more young people to serve the greater good, while ensuring they are equipped with the skills and knowledge to do so."
John Arnold, who graduated in 1995 with bachelor's degrees in math and economics, remembers his experiences at Vanderbilt as fundamental to his success as an entrepreneur and now as co-chair of the Laura and John Arnold Foundation. Previously, he was founder and CEO of Centaurus Energy, a hedge fund primarily focused on trading energy commodities. Laura Arnold was executive vice president and general counsel of Cobalt International Energy in Houston.
"[rquote]It means a lot to support my alma mater in this effort and give back to Vanderbilt, which has played such a pivotal role in my life,"[/rquote] John Arnold said. "When Dean Benton began to speak with us about these two programs, we knew her vision was important to invest in—not just for Vanderbilt but for the country as well. With this gift, we hope to help a new generation of leaders harness their potential to develop more effective, evidenced-based approaches to public policy."
The Arnolds have previously supported need-based scholarships at Vanderbilt, endowing the Arnold Family Scholarship in 2005 and the Arnold Scholars Program in 2009. In 2010, the couple signed "The Giving Pledge," joining other philanthropists in committing to give away at least half of their wealth to charities and philanthropic purposes. John Arnold also served on the university's Board of Trust and is a current member of the College of Arts and Science Board of Visitors, where he has served since 2006.
Through their support, the Arnolds will strengthen innovative interdisciplinary programs that will engage students in the study of social trends, governance challenges and policy problems while providing them with sophisticated analytical tools with a wide set of applications. These programs also will open opportunities to students to engage in immersive experiences such as developing white papers on public policy issues and completing internships in big data analysis.
Lauren Benton, dean of the College of Arts and Science and the Nelson O. Tyrone, Jr. Professor of History, noted that these programs are part of a larger vision for strengthening the school's ability to prepare students for successful careers after graduation.
"We are immensely thankful for John and Laura's generous support of these two key initiatives in the college," Benton said. "With this gift, not only will the college be positioned to add depth and breadth to our burgeoning program in public policy, but we also will be able to better prepare students for careers and graduate studies requiring advanced quantitative methods in the social sciences."