A team of four Vanderbilt sophomores will travel to Lisbon, Portugal, on April 10 in hopes of winning the KPMG International Case Competition.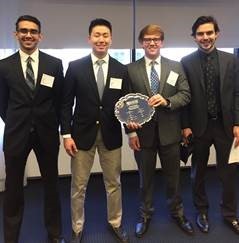 They beat out 41 other university teams at February's national contest in New York and now face 22 teams from around the globe.
KPMG, which audits many of the largest companies in the world, hosts the world's largest undergraduate international case competition. A group of KPMG leaders judge the students' ability to formulate practical solutions to case studies and to present their recommendations for the case in front of a panel.
The strategies being judged in this year's KPMG competition are Big Data, turning company data into usable insights, and Fin Tech, technology that drives disruption in the financial services industry.
The winning team comprises Amit Iyer, John Kim, Richard Hamrick and Kaan Aykac, who come from a range of interdisciplinary majors such as mathematics, economics and computer science. Their journey began with their winning a local round against eight other Vanderbilt teams in the fall and then going on to win regionals in Philadelphia.
During each round of the competition in various cities, participants receive a case file and have three hours to read, come up with a case strategy and prepare to present in front of a panel of KPMG judges. The fact that none were pursuing pre-business majors didn't hold them back, Hamrick said.
"Having a liberal arts background with the Vanderbilt's core curriculum requirements for Arts and Science majors has really been the greatest advantage that we've had in this entire competition," he said.
"[rquote]You really have to be creative and use your critical thinking abilities to come up with creative solutions,"[/rquote] Aykac added. "After talking to judges after every single round, those were the compliments that we got. Instead of making really specific business solutions, we came up with creative ideas that differentiated us from the other teams."
The Lisbon international competition is a week long. Jennifer Anderson, the Vanderbilt recruiter for KPMG, and her local colleagues, will assist the team in preparing for the final round. In addition, KPMG sent a coach from the Los Angeles office to Nashville to lead a special two-day training session. The team also plans to rework old cases and connect with professional coaches again before the final round.
"They've worked so hard throughout this process — even having to complete coursework on top of this — and we've seen them grow tremendously, truly as professionals and future consultants," said Anderson. "It's been amazing to see how much they've grown over the course of the competitions. I think we will really get to see this on a global scale once we go to Lisbon and see all the different countries together."