Media Inquiries
Latest Stories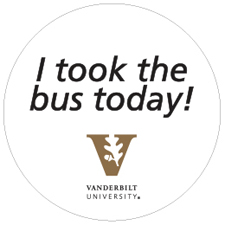 As a reminder, Friday, April 7, will be "Take the Bus to Work Day." Ride any MTA bus to work for free by swiping your Vanderbilt University ID when boarding.
The Metro Transit Authority and Regional Transit Authority anticipate more than 1 million people will relocate to Middle Tennessee in the next 25 years. With such an influx to the population, the Nashville MTA/RTA has implemented the nMotion Transit Plan, which is the result of more than a year of public engagement and technical analysis. Mass transit may very well become a necessity with such an increase in population. Take the bus to work on Friday, and see how you like it.
Don't forget about the available mobile apps that help make planning your bus ride easier: the Music City Trans Tracker, a comprehensive app that includes the trip planner and route schedule, and the Nashville Transit App, which provides real-time information about when the next bus will arrive at your stop.
Stop by the Baker Building's 10th floor and pick up a "I took the bus to work today" button to show your support. The buttons will be available until 4 p.m. April 6.