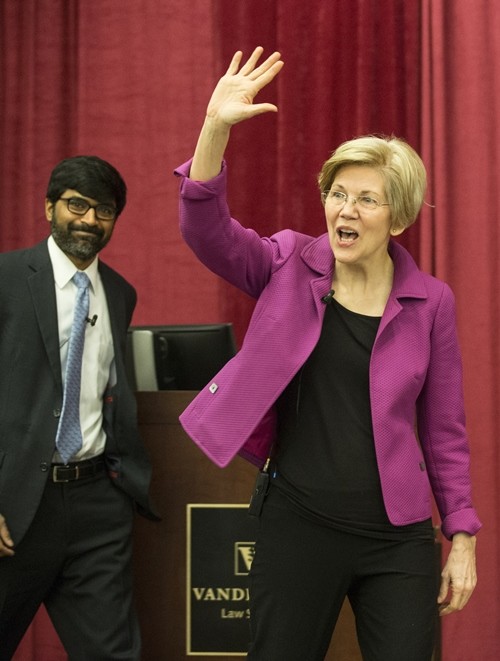 A college that charged $50 per semester was Sen. Elizabeth Warren's ticket to her first dream of becoming a teacher, she told Vanderbilt law students and faculty during the annual Cecil Sims Lecture.
"At the time I was in high school, it was perfectly clear: We had no money for me to go to college," Warren told a packed Flynn Auditorium at Vanderbilt Law School.
But she did find a way. It was that affordable commuter college.
"[rquote]I grew up to be a United States senator because I grew up in a place that invested in kids like me[/rquote]," the Massachusetts Democrat said. "Much of my work has been about an America that's turned away from that."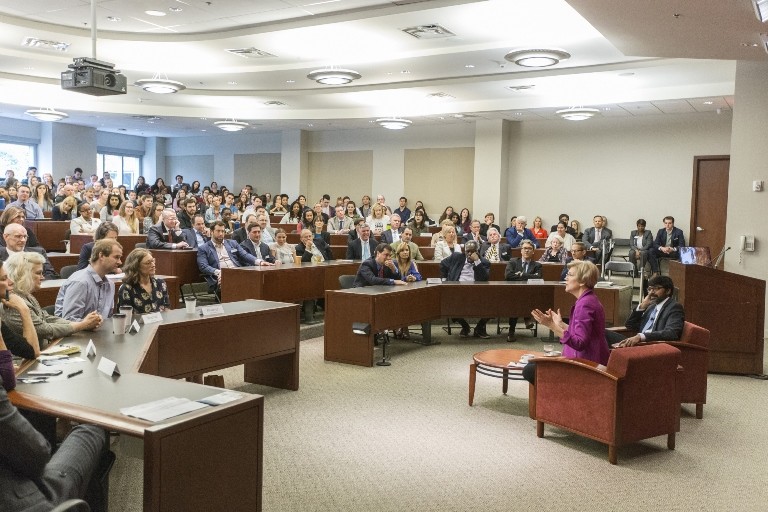 Warren urged students and faculty to demand greater opportunities for today's middle class and poor during her hour-long appearance March 31, first fielding questions from her former Harvard student Ganesh Sitaraman, associate professor of law at Vanderbilt, and then from students.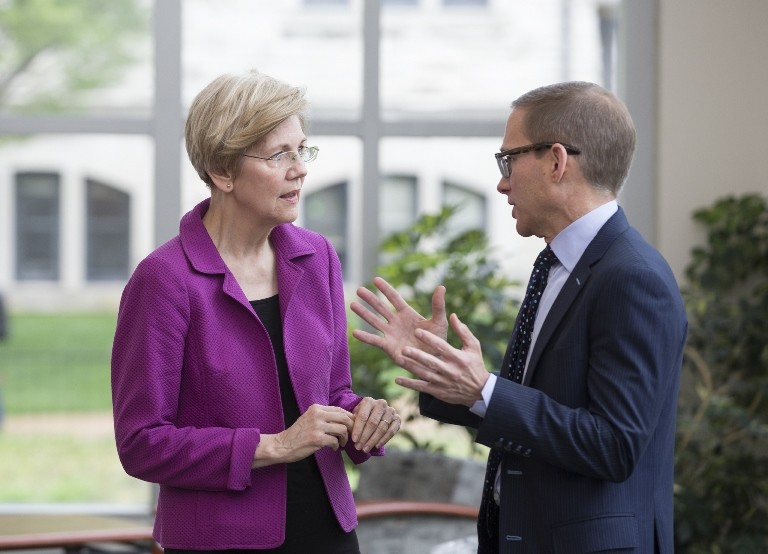 "When I was growing up, the odds that kids would do better than their parents were better than 90 percent," she said. "Today the odds that a kid will do better than her parents are less than a coin toss."
The Cecil Sims Lecture began in 1972, in honor of a 1914 graduate of the law school who served on Vanderbilt's Board of Trust for 26 years. In recent years speakers have included Attorney General Eric Holder and U.S. Supreme Court justices Clarence Thomas and Stephen Breyer.
Asked by a student what they could do to help change the status quo, Warren advised them to "keep using your voice."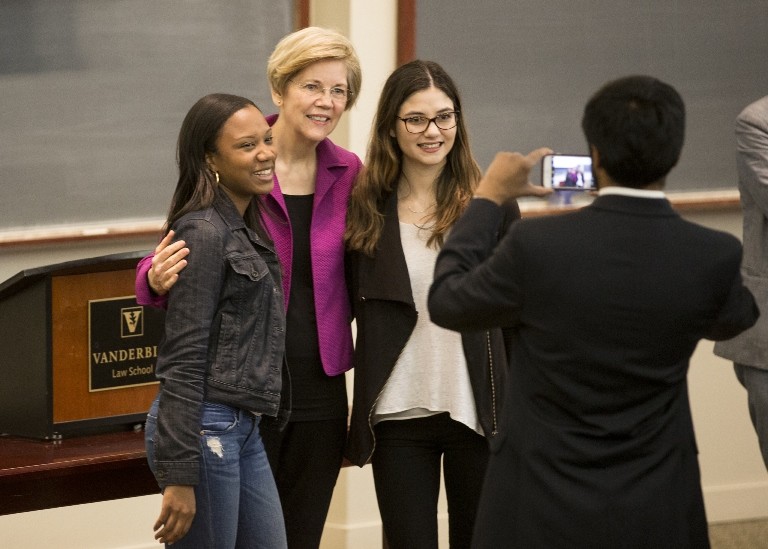 "This is what law students are good at," Warren said. "If you wade in and make yourself heard, by golly it does help to change things. Use every tool you've got. Connect people up. Get your roommate. Get your sister. Get your mom."
Warren took time before her address to stop in and pose for photographs with students in the overflow room, where those who couldn't fit into Flynn Auditorium watched the event.
Chris Guthrie, dean of the law school and the John Wade–Kent Syverud Professor of Law, introduced Sitaraman and Warren, who conducted the lecture as a dialogue with each other.