Four women from the Vanderbilt community were recognized for their leadership, mentoring and contributions to the advancement of women during the Margaret Cuninggim Women's Center's annual Cuninggim Lecture and awards ceremony March 23 at the Student Life Center.
Two students, undergraduate Erin Logan and graduate student Ghina Nakad, were honored with the Margaret Cuninggim Women's Center Leadership Award. The award honors students who demonstrate leadership in activities that contribute to the achievements, interests and goals of women or that promote gender equity.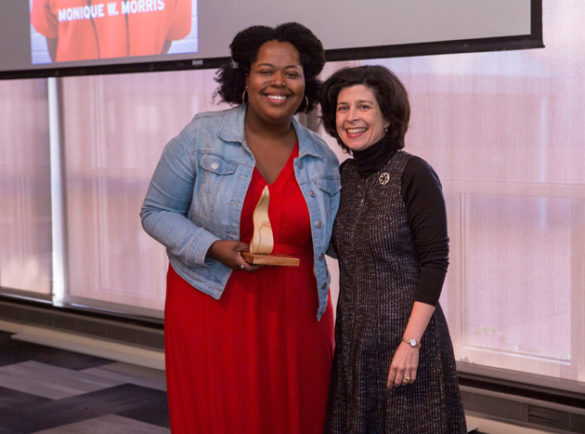 Logan, an African American and diaspora studies major, is involved in organizations such as Hidden Dores and Vanderbilt Feminists and is a contributing writer for the Vanderbilt Hustler. Her nominator emphasized Logan's commitment to gender equity and intersectional feminism, saying that she "promotes gender equity and racial equity… in each of her initiatives and actions, acknowledging that all forms of oppression are interwoven." In addition to her involvement on Vanderbilt's campus, Logan has written for WPLN, Blavity and the Huffington Post, among other outlets. She played an instrumental role in the Heist, a counter-program to former Breitbart editor Milo Yiannopoulous' lecture on campus last semester.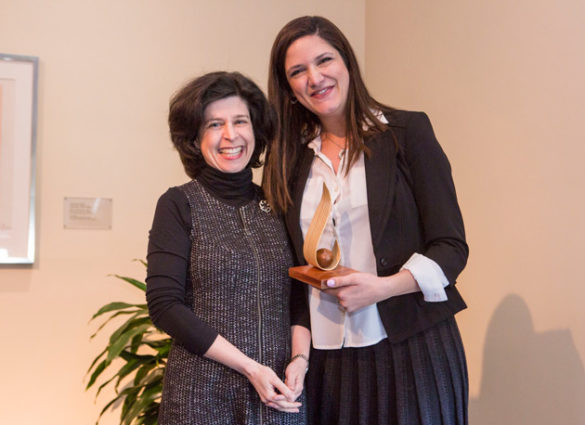 Nakad, a Ph.D. student in the Department of Civil and Environmental Engineering, is active in promoting the study of science, technology, engineering and math among young women and girls in the community. She has led interactive sessions on engineering and women in STEM for the Girl Scouts, for students at Rosa L. Parks Middle School, and for the School for Science and Math at Vanderbilt. Her work with young women and girls is voluntary, as there are no research initiatives in her home department focused on gender equity in STEM. In addition to volunteering in the community, Nakad initiated discussions surrounding maternity leave and returning to work after leave for students in the School of Engineering, modeled after her own experiences. These discussions led to a formal maternity leave for students as well as a dedicated lactation space in Featheringill Hall. As her nominator stated, Ghina "wants the world to know that women are capable of doing anything they want."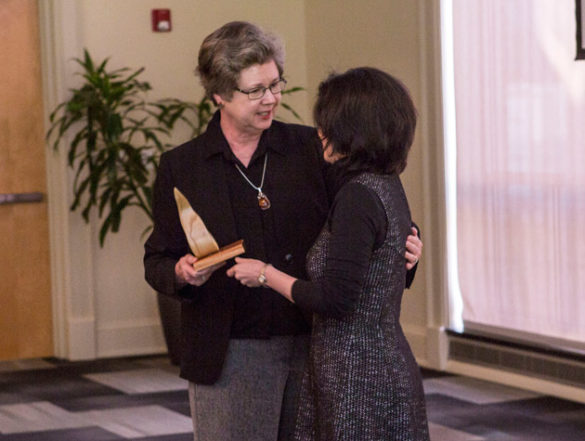 Janis May, administrative manager in the Department of English, is this year's recipient of the Mentoring Award. The award honors a member of the university community who fosters the professional and intellectual development of Vanderbilt women. During her years in the English department, May has helped further the administrative careers of many women on campus through mentoring and informal job coaching and by encouraging these women to pursue opportunities they may not have thought they were ready for. May is lauded as the cornerstone of the English department, doing everything from troubleshooting and problem-solving whenever called upon to mentoring faculty members of all levels. The following statement from a nominator sums up many of the comments made about May: "I often think Janis (whose tip jar sits on her desk for laughs) is the adult version of Lucy from Peanuts—the person to whom everyone goes to get advice."
Marie Griffin, director of the Vanderbilt master of public health program and professor of health policy and medicine, is this year's winner of the Mary Jane Werthan Award. The award is given annually to honor an individual who has contributed to the advancement of women at Vanderbilt on a systemic level. It is named in honor of Mary Jane Werthan, the first woman member of the Vanderbilt Board of Trust. Griffin was one of the first women to pursue the tenure track in the Medical Center upon her arrival at Vanderbilt and continues to be a role model for women interested in becoming research scientists. She has helped numerous women navigate the field of medicine and make the transition from fellow to faculty member. Griffin strives to promote the advancement of the women she works with by ensuring her collaborators receive recognition for their work and by going out of her way to review the work of those whom she does not primarily advise. Because of her work, the master of public health program has seen an increase not just in women students, but also in students from underrepresented groups and from low-resource settings.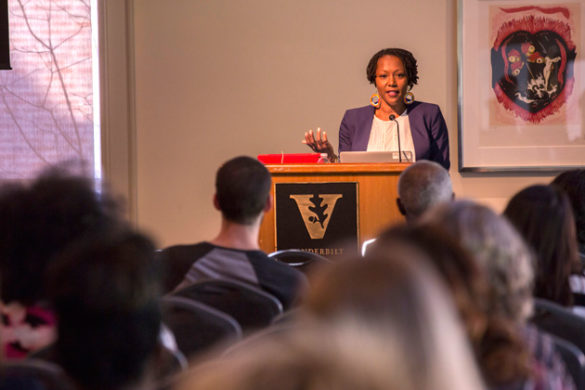 In addition, guest speaker Monique W. Morris delivered the annual Cuninggim Lecture on Women in Culture and Society at the March 23 event. Morris, an author and social justice scholar, discussed "Pushout: Countering the Criminalization of Black Girls in Schools."
For more information about the Women's Center's annual awards, contact Margaret Cuninggim Women's Center Director Rory Dicker at rory.dicker@vanderbilt.edu.