As the next in a series of student profiles related to Opportunity Vanderbilt, Christopher Huerta represents just one of the nearly 9,000 students whose lives have been changed by this financial aid initiative. For more information on Opportunity Vanderbilt, visit vu.edu/oppvu.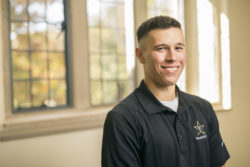 If it hadn't been for Disney World, Christopher Huerta may never have come to Vanderbilt.
During a road trip from Chicago to Orlando, the Huerta family made a stop in Nashville to tour Vanderbilt's campus.
"Vanderbilt is the most special place," Huerta says. "You can read all the stats and watch all the video tours online, but you only really understand how great Vanderbilt is when you visit. For me, it was love at first sight."
Huerta's dad is a high school baseball coach and his mom is the director of student records at DePaul University. With two younger siblings, Huerta knew that financial aid would play a key role in making his dream school possible.
A recipient of the Diane v.S. Levy and Robert M. Levy Scholarship, Huerta was able to come to Vanderbilt thanks to the university's Opportunity Vanderbilt initiative, which replaces loans with scholarships and grants for undergraduate students with financial need.
The Levy scholarship was established in 1997 and helped lay the groundwork for what ultimately became Opportunity Vanderbilt. It currently supports undergraduate students from diverse backgrounds. "Our original thought process for the scholarship," said Bob Levy, "was to give people access and give them a chance to make a positive change in their lives going forward and a positive change for all of us. From a philosophical standpoint, I want to live a life that when it's over no one should remember what you had, but what you've done for other people. That's why philanthropy is such a powerful influence on my life."
For Huerta, this has certainly been the case. "I wouldn't be here without the Levys' support. Every experience I've had here is because of their generosity."
After he graduates, Huerta hopes to be commissioned as a second lieutenant in the U.S. Marine Corps.
"I've always wanted to serve other people, and I've found the military is great outlet to do that."
Since second semester of his freshman year, Huerta has been an active member of Vanderbilt's NROTC. "It's the best decision I've made at Vanderbilt yet. My closest friends are in NROTC. All the active duty staff are amazing people. It's also a big time commitment. We meet almost daily—from running at 5:45 in the morning to workouts and classroom sessions that pertain to officer candidate school, which is where we have to go the summer after our junior year to be approved as an officer."
This year, Huerta also has participated with his NROTC battalion in a 10K Mud Run, in which he and his partner placed third. Later, he ran the 2016 Rock/Creek Stump Jump 50K race with two members of the active duty staff and a group of midshipmen. He's also participated in the National Security Symposium at Vanderbilt and Marine Week Nashville, where he had the opportunity to meet various high ranking military officials.
What stands out about his Vanderbilt NROTC experience is the diversity he's found at Vanderbilt. "To be a great leader, you need to meet different people and learn different perspectives. I get this at Vanderbilt."
Given his desire to serve others, it's not surprising that Huerta's other passion is health care. An economics major with a minor in corporate strategy and medicine, health, and society, he is looking forward to entering into the field someday.
"I've been to numerous doctors' appointments with my grandparents as they fell ill and battled different diseases. And I really enjoyed the people that were there and the dedication that they gave my grandparents. I would love to be a part of giving that to others."
Now, thanks to the support of the Levys and Vanderbilt's commitment to financial aid, he has that opportunity.
Since its inception, Opportunity Vanderbilt has supported more than 8,900 undergraduate students. In the 2016-2017 academic year, the progressive financial aid program is assisting 3,058 students. Opportunity Vanderbilt depends on generous alumni, parents and friends to support students with financial need. More than 3,500 people have made gifts ranging from $1 to $20 million since the initiative was announced in 2008.