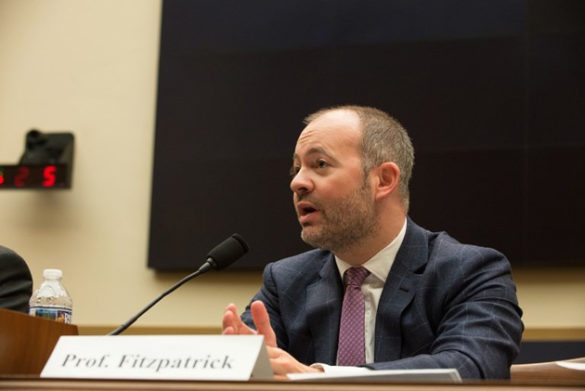 The large size of the 9th Circuit Court of Appeals may explain why it is so often reversed by the U.S. Supreme Court, Brian Fitzpatrick of Vanderbilt Law School testified before a congressional subcommittee.
Fitzpatrick, professor of law, offered his assessment March 16 about a question being considered by a House Judiciary subcommittee: Should the 9th Circuit be split into two or more separate courts? The 9th Circuit's territory includes Alaska, Arizona, California, Hawaii, Idaho, Montana, Nevada, Oregon and Washington state.
"There is good evidence that the 9th Circuit has more trouble following the precedents of the Supreme Court than other circuits do, and there is reason to believe – indeed, there is more than reason, there is math – that the circuit's size may be one of the causes of it," Fitzpatrick said.
Fitzpatrick clerked for 9th Circuit Court of Appeals Judge Diarmuid O'Scannlain early in his career, helped examine petitions to review decisions from the court as a clerk for U.S. Supreme Court Judge Antonin Scalia, and later represented clients who had cases heard by the 9th Circuit. He still follows the 9th Circuit as an academic.
The 9th Circuit currently has 29 active judges and 15 senior judges.
"By any measure, the 9th Circuit continues to be by far the largest in the United States," he said.
Most of the 9th Circuit's decisions are made by three-judge panels selected from the larger appellate court. Fitzpatrick calculated that as the size of an appellate court increases, the probability of selecting a three-judge panel where a majority of the judges hold outlier views increases as well.
"Everything else being equal, the probability of an outlier panel increases by several percentage points depending on whether a court is made up of seven persons or 28 persons," Fitzpatrick said.
Fitzpatrick noted that this "size effect" can be overcome by a good "en banc" process, in which the full court rehears decisions by the three-judge panels. But the 9th Circuit is too big for that. Unlike all other courts of appeal, the 9th Circuit rehears cases en banc without a full court; instead, only 11 of its judges rehear cases. Therefore, the en banc rehearings can be dominated by outlier views as well.
Although the size effect is small, when multiplied over the thousands of cases the 9th Circuit decides every year, Fitzpatrick said, "it can really add up."
"I believe the 9th Circuit's size leads to more outlier panels and an inability to correct them through the en banc process. This may explain its higher reversal rate," Fitzpatrick told Vanderbilt News.