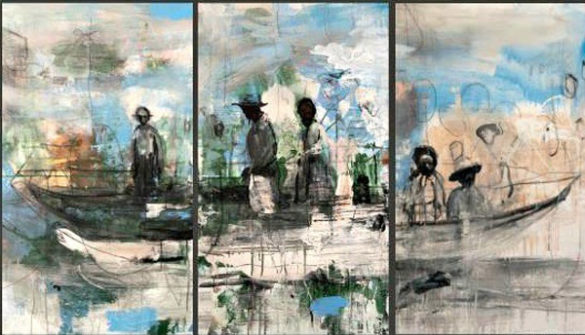 An art exhibition inspired by the three-panel paintings of early Christian altars and reflecting values of diversity and community will be on display at Vanderbilt Divinity School March 16-April 28.
The Religion in the Arts and Contemporary Culture program is hosting Triptych in the Divinity School's art gallery, Room G-20. The exhibition will open with a gallery reception that is free and open to the public March 16.
Artists featured in the Divinity School exhibition are Chip Boles, Louisa Glenn, Terry Lynn, Ndume Olatushani, Steve Stone Jr. and Brian Wooden.
A triptych is defined generally as a painting, photograph or other image in three parts. It originated from the Greek word triptykos, meaning three layers. The triptych became a popular art form in early Christianity. Beginning in the Middle Ages, altarpieces with elaborate painted or carved panels that were hinged together became popular in churches and cathedrals. The three panels would usually be related in theme, and the two outer panels could be folded in toward the central one.
"Through the work of five artists, Triptych explores dimensions of relationality and the shaping of identity through beauty, storytelling, religion and society," said Dave Perkins, associate director of Religion in the Arts and Contemporary Culture. "In doing so, the works challenge our cultural perceptions of self and other. Triptych models a mode of witness and a way of belonging together characterized by diversity, kindness and justice."
The exhibition will be open Mondays, Wednesdays and Fridays from noon to 2 p.m. and by appointment. For more information, email religionandarts@vanderbilt.edu or call 615-385-0220.