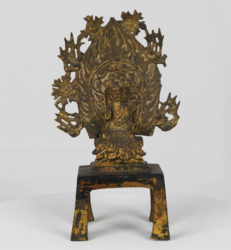 Stanley Abe, a Duke University associate professor in the Department of Art, Art History and Visual Studies, will deliver the Norman L. and Roselea J. Goldberg Lecture in Art History at Vanderbilt on Thursday, March 23. The talk is scheduled for 4:10 p.m. at Cohen Memorial Hall, Room 203, with a reception to follow.
The title of Abe's talk is "Duplication in Chinese Sculpture." In China, identical sets of figures, serial images, replications in archaic styles and later copies were produced over a long period of time. New works were provided with ancient inscriptions, and old objects could be inscribed anew. In modern times, forgeries meant to deceive collectors proliferated. Duplication was integral to the production of sculpture from ancient times to the present.
The study of duplication suggests a way to understand the history of Chinese sculpture as more than a series of unique masterpieces. But attention to duplication also raises many questions and issues for further study.