Media Inquiries
Latest Stories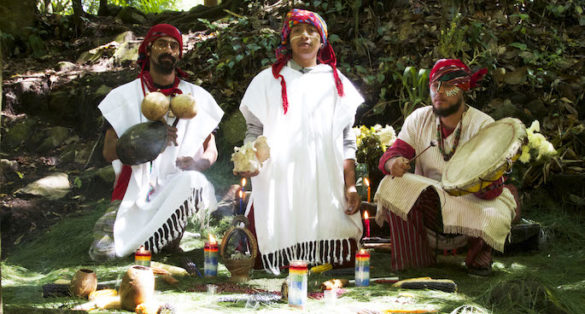 Vanderbilt University's Center of Latin American Studies, in collaboration with Middle Tennessee State University Professor of Anthropology Richard Pace, will host its second InDigital Latin America Conference March 16-18 at Vanderbilt. The conference examines how indigenous people in Latin America use digital media and technology to express themselves and engage with others.
This year's conference will focus on how indigenous musicians interact with digital media, and three musical acts will be in attendance: Balam Ajpu, a Maya hip-hop trio from Guatemala who performs in Tzutujil Mayan and Spanish and highlights themes sacred to the Maya culture; Pykatire Kayapó, a Kayapó folk singer from Brazil; and Jennifer Silva, aka JAAS Newen, a Mapuche musician and filmmaker from Chile.
There will also be free public performances at MTSU before the conference and at Carpenter's Square, a youth outreach center in South Nashville, afterwards.
"[rquote]One of the amazing things about the digital revolution is the ways indigenous people have adopted new technologies to protect and defend their culture[/rquote]," said Ted Fischer, director of the Center for Latin American Studies. "From the Kayapó in the Amazon to the Maya of Chiapas, indigenous peoples have used video, audio and the Internet to bypass local governments to appeal to the broader world. Maya musicians now borrow freely from pop, hip-hop and other traditions, and post their music on Facebook and SoundCloud, while Indigenous filmmakers are able to report on environmental destruction and other incursions on their lands."
Guest speakers include Elizabeth Weatherford, founding director of the Film and Video Center of the Smithsonian National Museum of the American Indian, and of the International Native American Film + Video Festival, and Amalia Cordova, a scholar, filmmaker and the Latino Curator for Digital and Emerging Media at the Smithsonian Institution's Center for Folklife and Cultural Heritage, who will deliver the conference's keynote address.
"This is a rich and vibrant field, the academic study of which is just beginning," said Fischer. "InDigital is the only conference in the country focused on this exciting area and we are proud to host it."
Free public concerts
The public is invited to enjoy the free concerts bookending the conference.
On Wednesday, March 15, at 12:30 p.m., MTSU will host all three musical acts at the Bragg Communication Building, located at 1301 East Main St. in Murfreesboro. This performance is sponsored by MTSU's Center for Popular Music, Colleges of Media and Entertainment and Liberal Arts, and MTSU's sociology and anthropology departments, as well as Vanderbilt's Center for Latin American Studies.
On Sunday, March 19, Balam Ajpu will give a solo performance at 2 p.m. at Carpenter's Square, which is located at 3016 Nolensville Pike. The performance is sponsored by the Center for Latin American Studies, the Global Education Center, Casa de la Cultura Latino Americana, and Carpenter's Square.