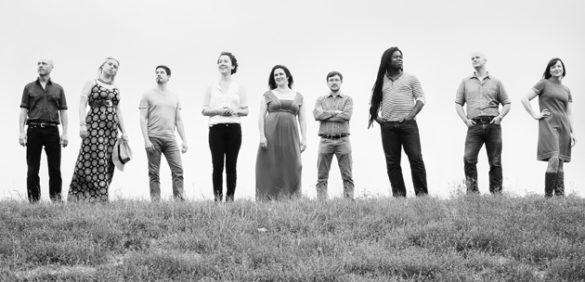 Roomful of Teeth, a Grammy-winning vocal ensemble dedicated to mining the expressive potential of the human voice, performs at Vanderbilt's Blair School of Music at 8 p.m. March 15 in Ingram Hall. The concert is free and open to all audiences.
Roomful of Teeth follows in the footsteps of groundbreaking composers like Meredith Monk, who explore voice as an instrument creating soundscapes capable of being a language in and of itself. The group has studied with masters of singing traditions the world over, continually expanding its vocabulary of singing techniques and, through an ongoing commissioning process, forging a new repertoire without musical borders. Founded in 2009 by Brad Wells, Roomful of Teeth members gather annually at the Massachusetts Museum of Contemporary Art (MASS MoCA) in North Adams, Massachusetts, where they have studied Tuvan throat singing, yodeling, belting, Inuit throat singing, Korean P'ansori, Georgian singing, Sardinian cantu a tenore, Hindustani music and Persian classical singing with some of the world's top performers and teachers.
The octet includes alto Caroline Shaw, composer of Partita for Eight Voices, which won the 2013 Pulitzer Prize for music. Shaw wrote the vocal suite for Roomful of Teeth over the course of several summers during the group's residency at MASS MoCA, inspired by texts from American visual artist Sol LeWitt's exhibit Wall Drawings on view at the museum. The group won the 2014 Grammy Award in the category Best Chamber Music/Small Ensemble Performance for their debut eponymous recording, which featured the piece. The group will perform the work in concert at Blair as the first half of their program. They also will workshop the first movement of the piece, "Allemande," with the Vanderbilt Chorale during a master class at 8 p.m. March 14, also in Ingram Hall. The master class is free and open to the public to observe.
The chorale also will sing in concert with Roomful of Teeth on Psychedelics, the world premiere of a work composed by Vanderbilt alumnus William Brittelle, a 1999 graduate of Blair's composition program. Other pieces on the program are by contemporary composers Eric Dudley, a tenor with Roomful of Teeth; Toby Twining; Rinde Eckert; and Merrill Garbus of the group tUnE-yArDs.
"The opportunity to work with Roomful is a once-in-a-lifetime experience for our students," said Tucker Biddlecombe, associate professor of choral activities and choral director. "At Vanderbilt we're often told to create our own opportunities. Well, these musicians really did that, all the way from a simple Kickstarter campaign to a Grammy and a Pulitzer. They're incredible role models for our budding young professional musicians."
The concert has been designated an Employee Appreciation event and includes a pre-concert reception for Vanderbilt employees in the Ingram Lobby at 7 p.m. Registration for the reception is required.
Parking for this event is available for free in West Garage (2500 Children's Way) through the Children's Way entrance.
The concert is presented with gratitude to the parents of a Blair School student for their generous support.