Media Inquiries
Latest Stories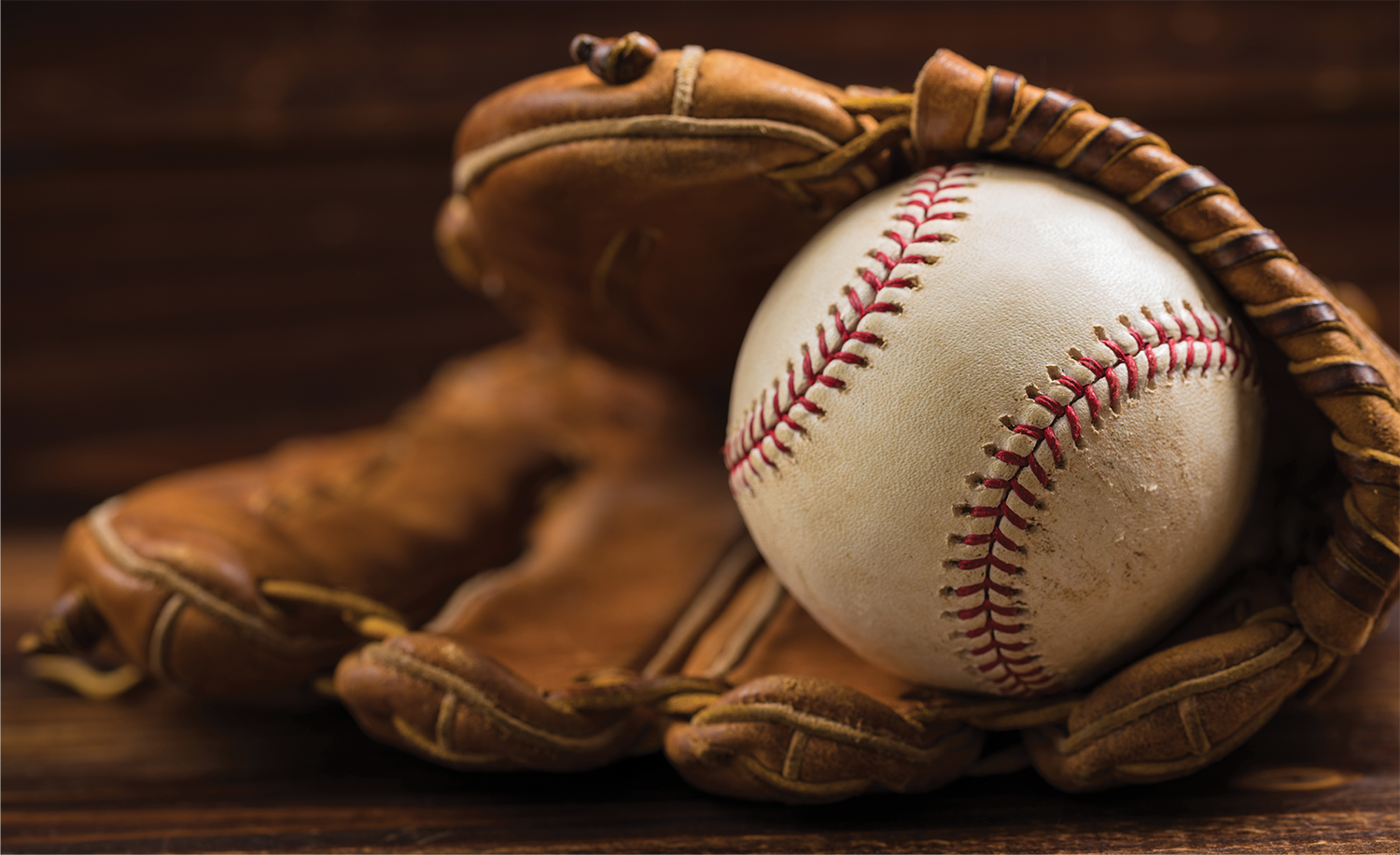 If you want to get a handle on the game of baseball, a good place to start is with the ball itself, specifically the seams that tie it all together. The 108 red stitches—used by pitchers to alter the trajectory of throws, depending on subtle changes in their grip—are the threads that have bound the game throughout its history: Baseballs are still hand-stitched in much the same way they were a century ago.
In a similar sense, the bonds between teammates and their coaches can figure just as prominently in the game, and nowhere is this truer than at Vanderbilt under the direction of Head Coach Tim Corbin. During the past 15 seasons, Corbin has built an extended family of sorts with his players, including major-league stars like David Price, '09, Sonny Gray, '12, and Dansby Swanson, '16. To them he will always be as much a father figure as he is a coach, known simply as "Corbs."
In the able hands of Corbin, these tight bonds, or seams if you will, have helped put Vanderbilt Baseball on a remarkable trajectory of its own, propelling the Commodores to a national championship in 2014 during back-to-back appearances in the College World Series finals.
"The kids who come to the program are bound together by a sport," Corbin says. "But inside the sport there's a family as well. To have success, it's necessary to nurture that family. The benefits from that are not always exposed on a scoreboard, but they are seen in the relationships the kids have and in their emotions about Vanderbilt once they leave."
To show their appreciation for Corbin and their confidence in the continued success of the program, many of his former players—an impressive 60 percent of them, in fact—as well as a number of other donors, recently contributed to a $12 million fundraising effort to support the construction of new baseball facilities at the university. The 30,000-square-foot space, which is slated to be completed by the end of the 2017 season, is focused squarely on the teaching and learning experience to develop student-athletes. It includes, among other things, an area in Memorial Gym devoted to instruction, teambuilding and training for both current student-athletes and returning former players, who will have an expanded locker room of their own.
"Having a place like this to return to in the offseason is huge for professional players like myself," says Price, a starting pitcher for the Boston Red Sox who gave the $2.5 million capstone gift for the project. "Our comfort zone is on the field or in the locker room, and not many players get to have that year-round. To be able to come back here and be with ex-teammates, or guys you hosted as a player, or guys you watched win a national championship—that's special."
Corbin sees the new project as an opportunity to continue to grow the extended Vanderbilt baseball family—what he called "a legacy of love" at the November press conference announcing Price's gift.
'A BETTER DECISION'
Vanderbilt's baseball program has a proud history that stretches all the way back to 1886, but Commodores fans can be excused for having a short memory about much of it. The success that has unfolded under Corbin is enough to fill a history book unto itself.
Corbin's Vanderbilt teams have played in the NCAA Division I Baseball Tournament 12 out of the past 14 seasons, including three appearances in the Super Regionals and three separate trips to the College World Series in Omaha, Nebraska. His teams also have won the Southeastern Conference—arguably the most competitive conference in the nation—three times and the SEC Tournament once.
Before Corbin's arrival the Commodores had last played in an NCAA Regional in 1980 under previous coach Roy Mewbourne, who also guided them to an SEC Tournament title that same year. Prior to that, only the teams of the early 1970s, coached by Larry Schmittou, BS'62, had ever won the SEC or played in the postseason. But none ever got past the initial round of the NCAAs, much less to Omaha.
David Williams II, vice chancellor for athletics and university affairs and athletics director, who was involved in Corbin's hiring, attributes this stunning turnaround in part to the coach's "focus, vision and energy." But he also points to Corbin's ability to connect on a personal level with the players he is recruiting, as well as their families.
"It was very clear when we hired Tim that he knew this game, and I don't mean just the X's and O's of baseball," Williams says. "He also knew recruiting. He was able to convince players like David Price and [Baltimore Orioles designated hitter] Pedro Álvarez ['09]—kids who could have gone first-round out of high school—to turn down million-dollar contracts and come to college instead. What he's been able to sell is not only that he's a good coach but that going to Vanderbilt is a better decision for these players."
Price is living proof of how the Vanderbilt experience can pay off in the end. After a stellar college career, he became the program's first-ever No. 1 pick in the Major League Baseball draft when the Tampa Bay Rays selected him in 2007. He then went on to win the American League Cy Young Award in 2012 before joining the Detroit Tigers and Toronto Blue Jays organizations. In 2015 he signed a seven-year, $217 million contract with the Red Sox, making him the highest-paid pitcher in the game to date.
Price says it was Corbin's candor and holistic approach to the game—stressing the student experience as much as the athletic one—that resonated with him and his parents during recruiting visits. Corbin's pitch was so convincing, in fact, that Price eventually put a message on his phone telling pro scouts not to bother calling him anymore. He was fully committed to Vanderbilt and said he would talk to them once his college days were through.
"To hear Coach Corbin tell my parents about his four-year plan for me at Vanderbilt was pretty unusual," explains Price, noting that college players need to complete just three years to be eligible for the draft. "A lot of other programs came in and would talk only about a three-year arrangement. Coach Corbin said it was always about the four years, and that meant something to me. That's caring about the person more than the player."
In the end Price did not stay the full four years at Vanderbilt. He signed with Tampa Bay after his junior year, and everyone agrees it was the right decision at the right time. But that did not make it any easier for Price to leave.
"He's one of the few kids I've ever had in this program who apologized for leaving early," Corbin says. "From the time he committed until the time he left, he was 'all in.' And in many ways he still is. He's taken three trips to Omaha to be with the team. This kid just celebrates Vanderbilt at every turn, and he doesn't have to do that. I love that about him."
This mutual devotion between Corbin and his players is something that Johnny Johnson, BE'68, a Houston petroleum executive and avid supporter of Vanderbilt Athletics, has witnessed firsthand.
"Vanderbilt Baseball has but a few peers, but what makes our program exceptional is the way Coach Corbin develops the young men who come to Vanderbilt to play baseball," says Johnson, who was one of the primary donors toward the facilities project. "Not only are their baseball skills improved, but the winning intangibles of character, integrity and work ethic are developed and embedded as well.
"In October 2015 we had a luncheon so Coach Corbin could showcase his vision for the future of the program. There was a room full of people, but conspicuously present were former players Tyler Beede ['15], Sam Selman [BS'13] and Drew Fann [BS'11, MEd'13]. They didn't have to be there; each traveled a great distance to attend. But out of respect and gratitude to Coach Corbin, they were there. When one observes that sort of devotion, supporting the baseball facilities project becomes an easy decision."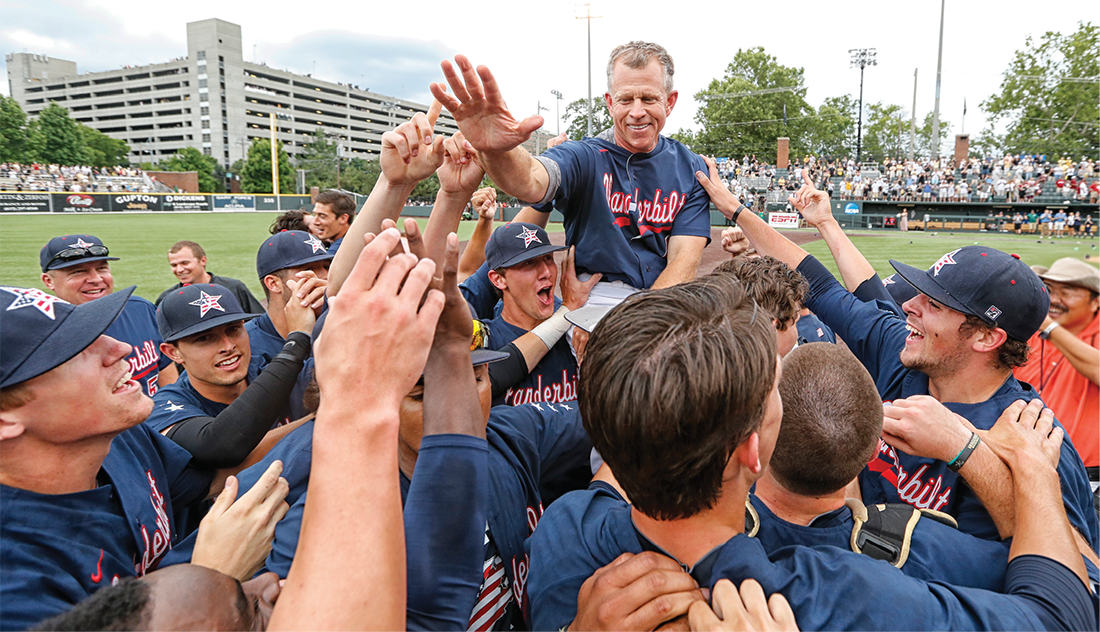 'HUNDREDS OF SONS'
After the Commodores' national championship in 2014, discussions about new facilities began in earnest, and Vanderbilt's administration made it clear from the beginning that it was fully committed to the upgrade. In particular, Corbin credits Chancellor Nicholas S. Zeppos and Williams for their unwavering support.
"I'm very thankful for Nick and David," he says. "They've been very good friends to our program. They've given us resources that other schools don't have, and I feel like I want to work harder for them because of it."
The new facilities offer improvements that encourage interaction among current and former players: open-air batting cages, a weight room and cardio areas, as well as new offices and operations spaces. It's exactly the kind of program Corbin sought to build when he came to Vanderbilt.
"Vanderbilt Baseball is a family," said Zeppos at the press conference announcing Price's gift. "We have a firm commitment, and I think it comes from Tim, focused on the development of these fine young men as students and as athletes. It really is fitting that the focus of this facility is on the student-athlete."
At the time he interviewed for the job, Corbin said a key component he envisioned was making players from previous teams feel welcomed. When asked to elaborate on this part of his plan, Corbin put it this way: "You've got kids, right? What did you do with their rooms after they graduated? Their rooms are still there for them whenever they want to come back, aren't they?"
Now, 15 years later, Corbin's vision is closer to reality than ever before, thanks to contributions from more than 245 donors, including many of his former players. Two of them—Carter Hawkins, BS'07, assistant general manager for the Cleveland Indians (see sidebar below), and the aforementioned Fann, assistant athletic director of internal affairs at Vanderbilt—co-chaired the fundraising campaign that encouraged players to give back.
[quoteitright]
"He always says, 'I've got two daughters, but I have hundreds of sons.' That meant something to us when we were here as players, but as we get further away from it, it means even more."
[/quoteitright]
"As a group we were more than happy to support Corbin and the program," Fann says. "The word 'family' is thrown about a lot these days, but we really take it to heart because we know just how much Coach cares about us. He always says, 'I've got two daughters, but I have hundreds of sons.' That meant something to us when we were here as players, but as we get further away from it, it means even more."
This sentiment is echoed by Swanson, shortstop for the Atlanta Braves. Like Price, he too left after his junior year when he was selected first overall in the draft and can attest to the enduring pull of Vanderbilt.
"I would come back regardless of whether these facilities were this nice, or if it were just another outdoor gym," Swanson says. "It's more than just the environment you can work out in; it's the people you surround yourself with. The more things I've gone through, the more I realize that you only get so many opportunities to be around special people like this."
Not all of Corbin's former players have gone on to careers on the baseball diamond. Some, like Hawkins, are still involved in the game, working in front offices for teams, while many others are employed in a variety of fields. Corbin believes the willingness of so many of them to donate, regardless of their station in life, speaks to their character and serves as an example to the current student-athletes at Vanderbilt.
"I love to see my kids on the front end of a community effort, maybe more so than a baseball effort, because I feel like they have the ability to shine in areas that are bigger than a ball and a bat," he says.
In the end, though, what matters to Corbin is not just that his former players give back, but that they come back as well.
"To be honest, that locker room for the former players—that's almost as much about me as it is about them," he says. "I just want to see them around. It's like a dad who knows his kids are in the house. I'm just glad they're here."
And that's what makes Vanderbilt's baseball program stand out from so many others: A genuine love exists between the players and their coach. It's as comfortable and unassuming as a well-worn baseball mitt. And it's as reassuring as that feeling that comes from gripping a baseball, the seams resting comfortably in the folds of your fingers.
In a word, it feels like home.
---
Watch a touching video about David Price's capstone gift to new baseball facilities and Coach Corbin's response:
---
Athletes and Scholars
"Student-athlete" is a term used on college campuses across the country, but Vanderbilt takes it to heart. The more than 300 young men and women who participate in varsity athletics are students first, embracing the total educational package the university offers and not just the opportunities afforded them on the playing field.
This commitment to a well-rounded academic experience is reflected in Vanderbilt's 2015–16 Graduation Success Rate, as determined by the NCAA, which put the Commodores atop the Southeastern Conference and tied for 35th among more than 350 athletic programs across the country. Vanderbilt also ranked sixth among all Power Five conference schools.
Here's an overview of how our student-athletes fared academically during the previous school year: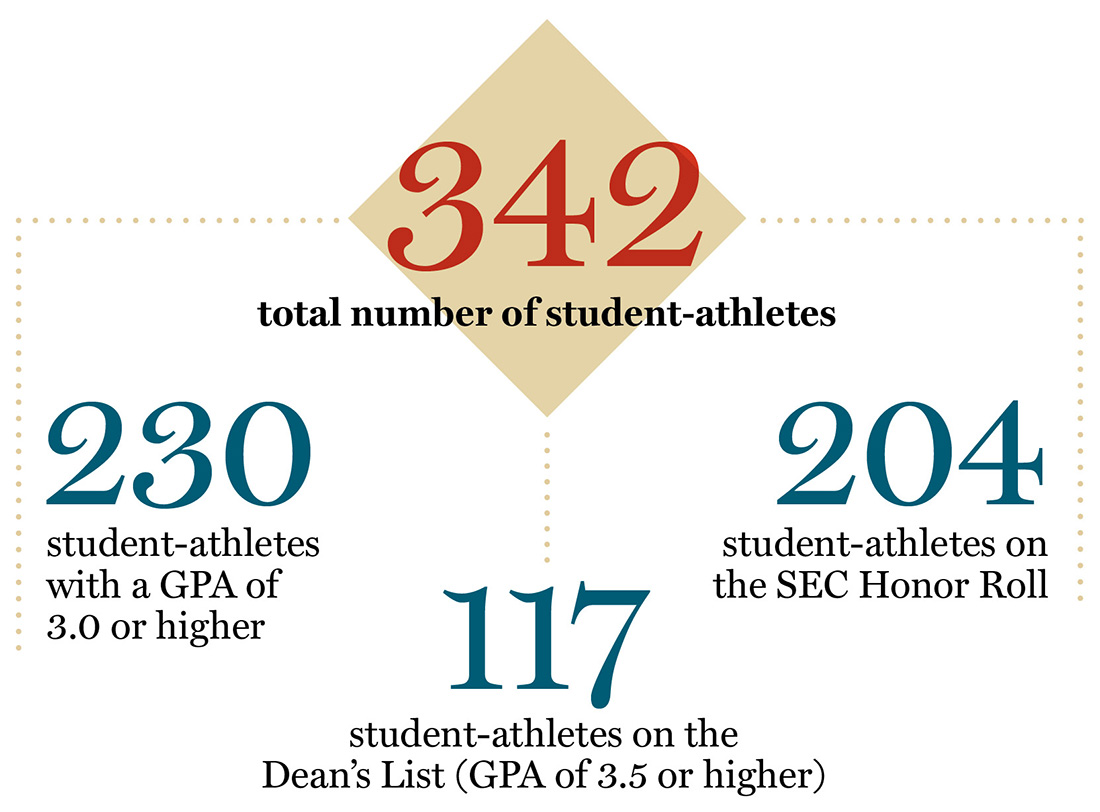 ---
Close Call
Carter Hawkins helped lead the Cleveland Indians to its first World Series since 1948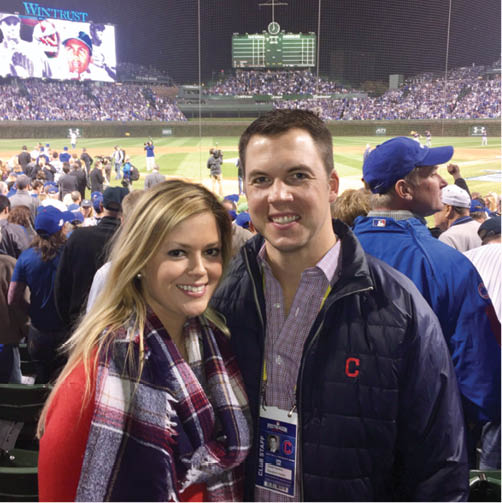 Perhaps no two teams ever shared such a history of misery. Not since 1908 had the Chicago Cubs won a world championship; for the Cleveland Indians, it was 1948. And yet here they were in the 2016 World Series, battling to the very end in what SB Nation said would be "the cruelest World Series Game Seven ever—this can only end with maximum pain."
Unfortunately, for the Indians and for Carter Hawkins, BS'07, their newly promoted assistant general manager, the series did end in painful fashion. The Cubs won the deciding game, 8–7, in a four-and-a-half-hour, rain-delayed, 10-inning classic.
While the outcome wasn't what Hawkins—a former catcher for the Commodores under Head Coach Tim Corbin—would have wanted, he was thrilled the Indians got the opportunity to play in the series.
"You knew there was something special about the makeup of the team, the chemistry of the team," says Hawkins, who had served as head of player development for the Indians for two years, a position he still held during the World Series. "You felt there was a chance we might be able to do something special."
He says it was around late June and early July, when the Indians set a franchise record by winning 14 games in a row, that the team allowed itself to start pondering the postseason possibilities. At the time, Hawkins also was co-chairing the fundraising effort to expand Vanderbilt's baseball facilities.
On their way to the World Series, the Indians quickly blew past the Boston Red Sox and Toronto Blue Jays. Once they made it into the finals, the Tribe took a commanding 3-games-to-1 lead, only to see the Cubs win the next two games and force the deciding game seven.
"Immediately after a disappointment like that, it's tough to kind of pull yourself together," says Hawkins. But it was important to reflect on what the club had done right, even after players suffered a slew of late-season injuries.
"We had the attitude of, 'Hey, this is the hand we've been dealt, and we're going to do everything we possibly can to take this setback and create an opportunity for somebody else,'" he says.
"I think that really resonated within our team, and it was strengthened by the fact that everybody was invested in each other in that clubhouse, which is difficult to do in professional sports."
—TOM KERTSCHER
Tom Kertscher is a reporter for the Milwaukee Journal Sentinel.
---