Readers' Letters, Winter 2017
by
Missy Pankake
Mar. 7, 2017, 11:31 AM
THE EQUITY BATTLE
Thank you for taking time to share the letter to your daughter in Vanderbilt Magazine ["A Letter to My Daughter" by Professor of Classical Studies, Emerita, Susan Ford Wiltshire, Fall 2016]. I graduated from Vanderbilt Law School in '93 and got my Ph.D. in sociology in 1997. I practiced law at Bass, Berry and Sims (1995–98). My dissertation was about issues of race, gender, class and education, which led to my first book, Critical Race Feminism and Education: A Social Justice Model. I worked at Vanderbilt from 1998 to 2006 as the university compliance officer, university counsel and assistant secretary. I left to go to the University of Illinois to work in civil rights, equal opportunity, affirmative action and diversity. Now, at Virginia Tech, I'm a full professor of education, vice president for strategic affairs, and vice provost for inclusion and diversity. My work, every day, is the battle you shared. It is the daily journey for equity, fairness and valuing difference.
Your article (wish it had been on the cover) caught my attention. I so appreciated the lessons learned—they seem timeless and still relevant. Thank you for taking time to share the story … and thanks, too, to the editor for including it. So important!
I'm working on a book about my mother's journey from being a sharecropper and picking cotton in the 1930s to becoming a full professor of social work at a time when less than 1 percent of black women were in the academy. She, too, was an organizer! I just finished a book coming out this spring about presidents in the academy who are women of color. Their journeys are so reminiscent of the battles women and women of color must still fight in the academy, and your article was a reminder of the need to be persistent and to engage in collective work.
All this to say, thank you for taking the time to write. Too often, journeys of justice get lost and silenced, and the lessons learned fade into history and then new activists start from the beginning without the benefit of wisdom of those who have gone before. Thank you again!
MENAH PRATT-CLARKE, JD'93, PHD'97, Blacksburg, Virginia
---
Thank you for publishing Susan Ford Wiltshire's "A Letter to My Daughter." I studied in the Graduate Department of Religion at Vanderbilt in 1978–79 and, during one of those semesters, audited a classics course. Professor Wiltshire was invited to guest-lecture for one class, and I was so impressed by her that I never forgot her. I knew nothing about her, so I was thrilled to read her story last month; after more than 30 years, I finally understand why she was so memorable. What a remarkable and inspiring person she is.
REBECCA S. IKEHARA, MA'81, North Brookfield, Massachusetts
---
I am writing in response to the Editor's Letter published in the Fall 2016 issue of Vanderbilt Magazine. In that letter Ryan Underwood says, in regard to Susan Wiltshire's excellent piece about the Elizabeth Langland case, that the effort in which Wiltshire and others participated was intended "to force the university's English department to grant a woman tenure for the first time in its history." This statement is blatantly false.
As Professor Wiltshire's article clearly explains, and as those of us who were around at the time well know, the English department voted, by a 15–5 margin, to promote Professor Langland. It was the university's administration—most particularly, then-Dean Jacque Voegeli—who overturned the department's decision and refused to grant Professor Langland tenure. I well remember the circumstances, as I was at the time an English major and Professor Langland was one of my favorite teachers. The year after the decision, while the court case was taking place, I took a class about images of women in literature and religion, co-taught by professors Langland and Gay Welch. The significance of taking that class during that year was bittersweet then and remains bittersweet today. We just went through a presidential election in which a talented, intelligent, experienced woman once again failed to achieve a goal for which she was eminently qualified. As I cried through the night of Nov. 8 and into Nov. 9, I thought of Professor Langland.
The Langland case was a significant touchstone for many of us who were here during that time, and I feel it is important for the university to acknowledge that it was its administration—and not the English department—that dealt the blow that year. Attempting to soft-pedal the university's responsibility (and its poor record of promoting women well into the 1990s) is at best misleading. At worst, it is an intentional attempt at misdirection. Now, more than ever, the women of Vanderbilt need acknowledgement that the university is willing to accept its responsibility for the outcome of this case, and to recommit itself to ensuring that people of all races, genders, creeds and ethnicities are treated equally on its campus. For these reasons I am requesting that Vanderbilt Magazine retract the statement in the Editor's Letter, and make it clear that the negative decision in the Langland tenure case was made by Dean Voegeli, and not by the English department.
ELIZABETH TESELLE, BA'84, Columbia, Tennessee
EDITOR'S NOTE: The online version of the Editor's Letter has been updated to correct the misstatement.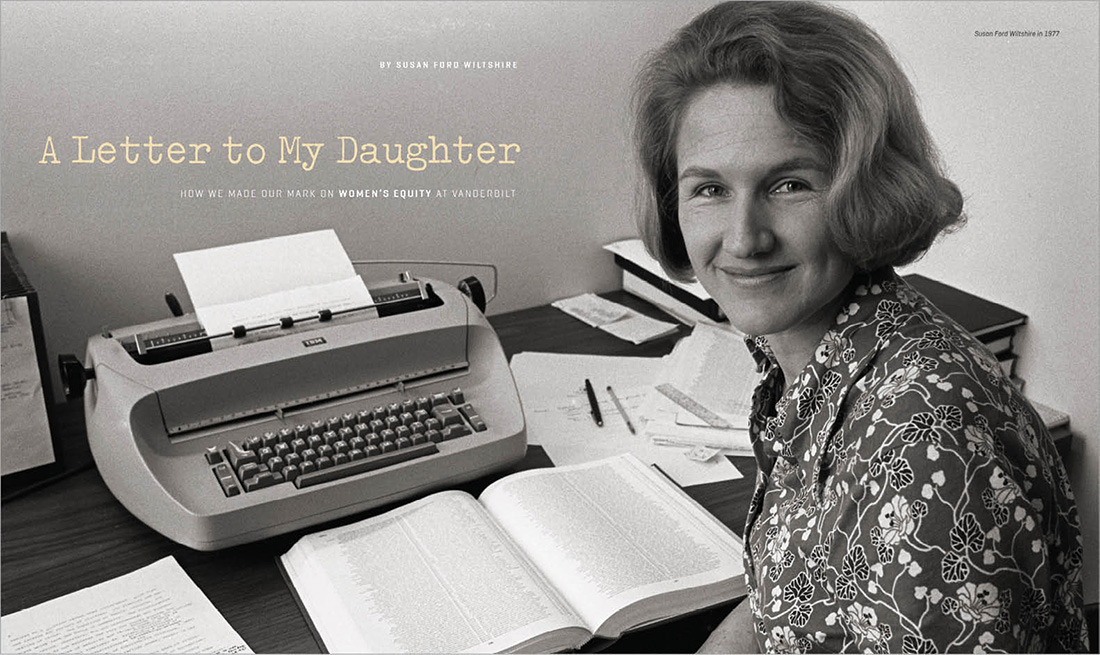 ---
CONSTRUCTING SUCCESS
EDITOR'S NOTE: These comments are in response to an online version of the news about a $20 million gift to Vanderbilt's College Halls program from Jeffrey Rothschild, BA'77, MS'79, and his wife, Marieke.
I was very fortunate to be one of the inaugural recipients of [the Rothschilds'] scholarship in 2013. Their generosity had a great impact on my life, and their continued support of Vanderbilt is truly inspiring.
MAXWELL ALEXANDER STEPHAN-QUEEN, BA'16, Casa Grande, Arizona
---
This is wonderful. The generosity of successful alumni keeps Vanderbilt strong and vibrant for future generations of students. Thank you.
LISA KEENAN SEEBERG, Vanderbilt parent, Naperville, Illinois
---
STILL CHIMING
Wonder how many others heard the Kirkland bell ["Clock of Ages," Fall 2016] at 2 or 3 a.m. while cramming for finals? That memory is still there. Vanderbilt Hall is no longer.
CLYDE WILHOITE, '58, Jonesboro, Arkansas
---
I still miss being within [earshot of] the sound of the bell.
MARY BRISTOW, BA'73, JD'77, Brentwood, Tennessee
---
HARD ON THE EYES
Vanderbilt Magazine always has articles and information that I am glad to receive. However, I find reading the magazine tiring because of the print.
In recent years, print style in many publications has become smaller, grayer and more crowded with greater use of light pastels, all of which make reading more difficult. Reduced contrast seems the fad. For me, unless conditions are ideal, reading Vanderbilt Magazine is taxing. Even in good conditions, I can read some pieces only for a few minutes and must put the magazine down.
One could suppose that my elderly eyes are part of the reason, and that may or may not be so. On the other hand, no doubt Vanderbilt Magazine is sent to people of a wide age range (and sight ability). Further, when I compare with things printed 20 years ago, the old print is easier to read.
I have heard that a reason for smaller print is to save space and reduce the high cost of publishing. However, sometimes I am impressed by the amount of white space. My strong suspicion is that current print styles are trendy and supposedly edgy. There must be a better compromise between economy of space and the font, size and darkness for reading ease.
JIM PECK, PHD'72, Jackson, Mississippi
---
We welcome your letters in response to contents of the magazine. We reserve the right to edit for length, style and clarity. Mail signed letters to Ryan Underwood, editor, Vanderbilt Magazine, PMB 357737, 2301 Vanderbilt Place, Nashville, TN 37235-7737; or send email to vanderbiltmagazine@vanderbilt.edu.
---