Obituary: J. Dewey Daane, Giant of Finance
by
Missy Pankake
Mar. 7, 2017, 11:24 AM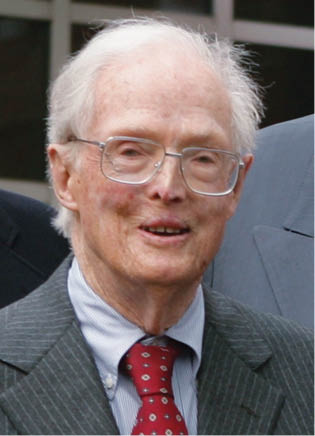 An international monetary expert and one of the most esteemed economic minds of the last century, J. Dewey Daane died Jan. 3 in Nashville at the age of 98. He was a Federal Reserve governor from 1963 to 1974 and the Frank K. Houston Professor of Finance, emeritus, of the Vanderbilt Owen Graduate School of Management.
Before entering academia, Daane had a lengthy distinguished career in government and public service, including many years with the Federal Reserve system and the U.S. Treasury. Appointed to the Board of Governors of the Federal Reserve by President John F. Kennedy in 1963, Daane served as a voting member of the Federal Open Market Committee, the principal policymaking body of the Fed.
He, along with Paul Volcker—who served two terms as chairman of the Fed from 1979 to 1987—represented the U.S. as deputies to the ministers and governors of the Group of Ten in meetings related to international monetary crises. Daane and Volcker also acted as U.S. deputies on the Committee on Reform of the International Monetary System and Related Issues (also called the Committee of Twenty), which produced a classic blueprint for the functioning of the international monetary system.
Daane's interest and involvement with the Federal Reserve system continued until his death.
Armed with degrees from Duke and Harvard—and with the unique distinction of being Harvard's first doctor in public administration—Daane joined what would become Vanderbilt's Owen School in 1974 as the Frank K. Houston Professor of Finance. He helped established and run the Financial Markets Research Center and focused in his teaching on the evolution of the international monetary system and on monetary and fiscal policy.
"Dewey Daane was a very old friend to me and many others who came to know him through his extraordinary career in public service, capped by his tenure as a governor of the Federal Reserve," said Volcker. "Dewey never retired. Up until his 98th year, he took enormous pride in the Vanderbilt and Nashville communities, where he became a fixture. He was very loyal."
While still on the Owen faculty, Daane served as vice chairman of the board of Sovran Bank (now Bank of America) in Nashville and continued as an adviser to the U.S. Congressional Budget Office. He was appointed a public director of the Chicago Board of Trade (1979–1982) and was public director of the National Futures Association (1987–2002). He also served as a director of the Whittaker Corp., a large multinational company based in Los Angeles (1974–1989).
During the eight decades of his career, Daane never stopped analyzing and critiquing national and international financial systems. Until his death he was a regular contributor to The Wall Street Journal's monthly economic survey, and he contributed to USA Today's quarterly economic forecast.
Daane was married nearly 54 years to Barbara McMann Daane. She survives him, along with their three daughters, including Elizabeth Whitney Daane, BA'87, and Olivia Daane Reische, BA'92.
—JAN READ
---