Obituary: Dr. Arthur S. Booth Jr., BA'62, Surgeon of Service
by
Missy Pankake
Mar. 7, 2017, 11:24 AM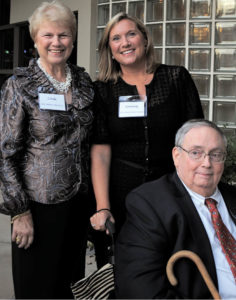 Dr. Arthur S. Booth Jr., a prominent member of the Atlanta medical community for more than 30 years, died June 18, 2016, at Hospice Atlanta, which he co-founded. He was 76. He and his wife, Linda Morgan Booth, BA'63, received Vanderbilt's 2016 Alumni Public Service Award in recognition of their lifelong humanitarian efforts.
An Atlanta native, Arthur Booth was a member of Phi Delta Theta fraternity at Vanderbilt before earning his medical degree from the Medical College of Georgia in 1966. He helped begin a kidney transplant program at what is now the University of Tennessee Health Science Center in Memphis, and was an associate professor of transplantation at the University of Colorado School of Medicine. A medical officer in the U.S. Navy, he was honorably discharged with the rank of commander in 1972.
Returning to his roots, Booth established a successful private practice in Atlanta as a board-certified general and oncological surgeon from 1972 to 1995. He also practiced at several hospitals, including Northside, where he served on its board of trustees and as chief of general surgery and chairman of the Department of Surgery.
As both a surgeon and man of faith, Booth recognized the need for a successful organization to provide palliative care for terminally ill patients in the Greater Atlanta area. In 1982, with his longtime friend and patient Eula Carlos, he founded his dream, Hospice of the South, which later merged with Hospice Atlanta and constructed an inpatient facility. He served on the board of Hospice Atlanta from 1992 to 2003, was medical director of the Andrew and Eula Carlos Hospice Atlanta Center from 1996 to 2003, and also led Emory University's medical resident program there.
Booth's humanitarian work on behalf of the hospice center and its residents led to many community awards, including the Medical Association of Atlanta Aven Cup Award and the Medical Association of Georgia Humanitarian Award. He was named one of President George H.W. Bush's "1,000 Points of Light."
After retiring to Kiawah Island, South Carolina, in 2004, Booth recognized yet another unfulfilled need in community health care. In 2008 he co-founded the Barrier Islands Free Medical Clinic on John's Island for all the area's working poor and uninsured.
He is survived by his wife, Linda; a daughter; son-in-law; a granddaughter, Vanderbilt freshman Morgan Elaine Rimmer; and extended family.
—PHILLIP B. TUCKER
---