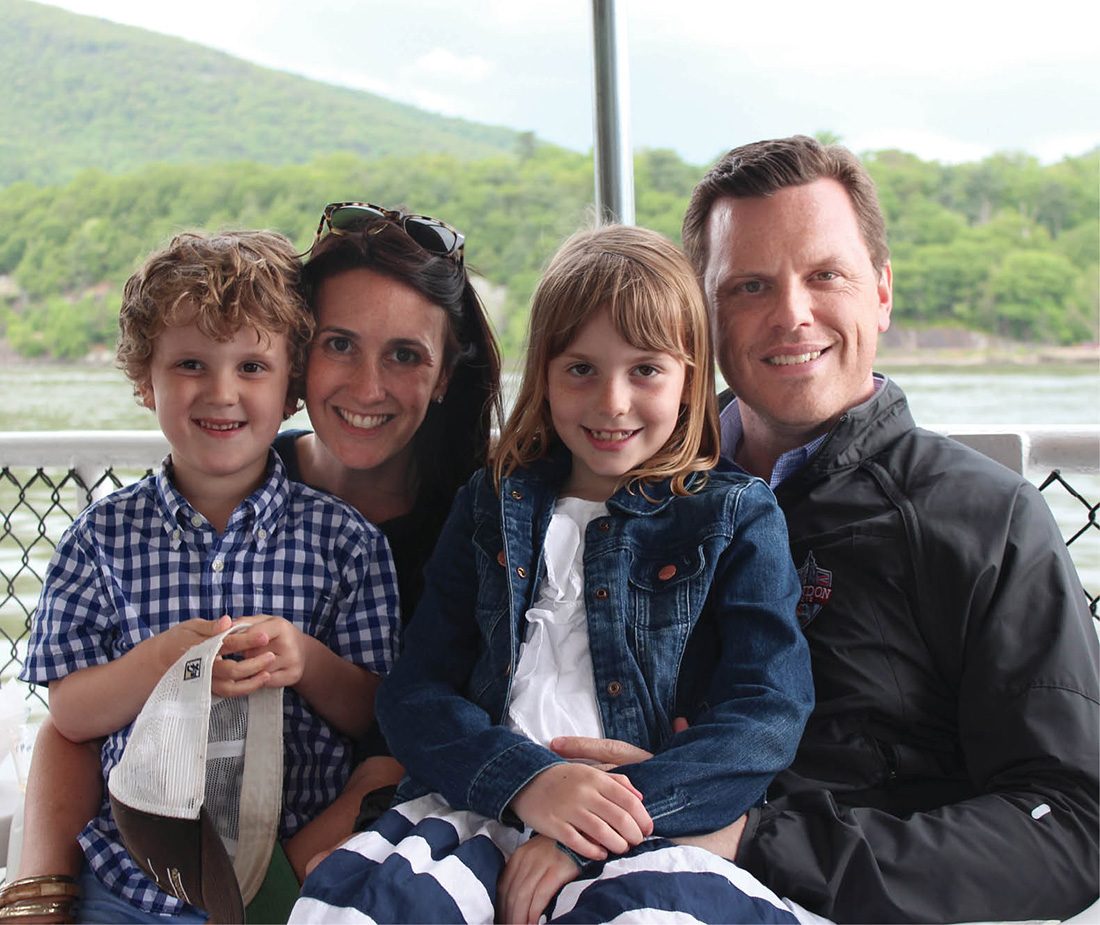 Christina Sharkey Geist is many things: a mother, wife, brand strategist, small business owner, "mompreneur" and, now, a children's book author.
After three years as director of design strategy at Johnson & Johnson, Geist had two babies back to back. She then took a break to focus on her children before co-founding True Geist, a strategic design and branding shop in New York City, in February 2015. Seven months later she launched Boombox Gifts, an idea that germinated while celebrating the 40th birthday of her Chi Omega sorority big sister. And last September her first book, Buddy's Bedtime Battery (Random House), hit shelves.
"If I feel connected to something and feel good about it, I see it through," Geist says.
As a political science major at Vanderbilt, with minors in psychology and history, her plan had been to work in television news. She interned at the Nashville CBS affiliate during the spring semester of her senior year and was hired at the station shortly after graduation. It took only six months of working the overnight shift—midnight to 8 a.m.—for Geist to realize TV wasn't her thing.
Around the same time, her high school sweetheart and future husband, alumnus Willie Geist, BA'97—now anchor of NBC's Sunday Today with Willie Geist and co-anchor of MSNBC's Morning Joe—began his first job in television.
She headed to Boston to work in public relations before switching gears (and cities) to brand strategy in New York. Her experience in both fields is one of the reasons Boombox is succeeding.
What began as a 40th birthday gift for Amy Yarbro Shaffer, BS'96, bloomed into a full-blown business. Kristen Osborn Novelline, BA'96, was putting together a slideshow and asked Geist to gather written notes of affection from people important to Shaffer so they could present them to her at a celebration in Key West, Florida.
"Kristen found a jewelry box, and we ripped the guts out," recalls Geist. "I emailed everybody in Amy's life, printed their messages, and put them in the box."
Shaffer says her reaction to the gift let Geist know she was onto something. "It was so hard to digest everything and the work that went into it," says Shaffer. "They found who I did my [Vanderbilt] human and organizational development internship with and had him write a note."
Shaffer likens the messages in each Boombox to what people say about loved ones at their funerals … except that they're still alive to hear it. "It's your whole life in a box. It is very overwhelming," she says.
A month later Geist did the same thing for her father's 70th birthday, using a watch box she bought online and cards from a specialty paper company. She then found herself in charge of 40th birthday boxes for three other pledge sisters and close friends, Megan Tupa, BS'97, Kim Edgar Lang, BS'97, and Helen Huie Burns, BA'97, all of whom had been in Key West for the first event.
"I probably had made eight or 10 before I said, 'Maybe it's time to actually do this myself. Maybe this is my big idea,'" Geist recalls.
Those same five friends were too busy with their own families and careers to join forces with Geist, so she did it on her own. However, they are official members of the Founding Friends Advisory Board of Boombox Gifts LLC, with a 1 percent stake of the business. "That is so Shark," says Shaffer. "There is absolutely nothing she won't do or can't do. She dreams so big and makes it happen—like this little idea. We're all sitting around the pool having a glass of wine, and she's like, 'I think we can do this.' And by God, it's happening. She can do anything."
"Anything" includes finding two-hour windows to sit at Starbucks and write stories. "I had these characters dancing around in my head," Geist says. Buddy's Bedtime Battery is the first story she's completed, but a dozen others are in the works that she hopes will get published, too. For now she is focused on spreading the word about Buddy, which she has done with the help of numerous Vanderbilt alumni.
"Publishers don't set up book tours anymore, so this is a Vanderbilt book tour," says Geist. "This is totally me doing it on the fly with my Vandy girls along the way."
Geist spent nine days in Dallas, Los Angeles and San Francisco last October, where college friends promoted her book by hosting events in their homes and schools. She has plans to do the same in Atlanta, Charlotte, Chicago and Nashville. "There are women I haven't seen in 20 years who are hosting me," says Geist, obviously humbled.
"There's something about these women, from all across the Greek system, going back to Branscomb or Kissam—a kinship sisterhood that to me has been even stronger than the sisterhood of the sorority," she says. "The Vanderbilt community is special, and I'm seeing it every day."
—ELIZABETH COOK JENKINS, BS'99
---