Media Inquiries
Latest Stories
By Elizabeth Cook Jenkins, BS'99
As a Vanderbilt undergraduate, Alex Taylor, BS'97, never thought he'd join the family business. He also had no desire to follow his friends into the world of financial services, even though he was studying what he calls the "psychology of business" as a human and organizational development major at Peabody College.
"I didn't want to do the same thing everybody else was doing," says Taylor, who went to work after graduation writing newsletters for New York-based nonprofit Communities in Schools while also mapping out a book about fly fishing. "I even talked about starting my own fly-fishing company."
After a four-month journey around the globe, Taylor finished his book, The Longest Cast: The Fly-Fishing Journey of a Lifetime (2001, Lyons Press). He also realized he wanted to join the family business after all.
"I was spending too much time proving to myself that I didn't have to work at the family company, and avoiding the most obvious opportunity," he says. "We have this huge legacy that goes back 100 years. It would be such a shame not to be a part of it."
Taylor is the great-grandson of Cox Enterprises founder James M. Cox. Today, privately held Cox is one of the nation's largest media companies, with annual revenue of around $18 billion and more than 60,000 employees. In addition to owning storied newspapers such as The Atlanta Journal-Constitution and Austin American-Statesman, the company runs a network of local broadcast television and radio stations, a broadband and cable operation, and prominent automotive platforms such as Kelley Blue Book and Autotrader.
Last July, after having risen through the company ranks over a 16-year career, Taylor was named executive vice president and chief operating officer of Cox Enterprises. At the time of his appointment, Cox CEO John M. Dyer said, "Alex has the bold thinking and vision, rooted in a deep understanding and commitment to our businesses, that will enable our company to grow and compete for the next 10, 20 and even 30 years."
A similar sentiment led Vanderbilt Chancellor Nicholas S. Zeppos to think about Taylor as someone who could help chart the university's future. In 2015 he was appointed to the Vanderbilt Board of Trust. "When the board starts to think about who will become leaders and stewards of the university, we look for people who are consistently engaged in the activities of Vanderbilt. It's really about asking, 'Who is the next generation of leaders?'" Zeppos says.
"I'd had my eye on Alex for a while and have gotten to know him better over the past decade. He is deeply immersed in the things that the students and university are focused on, such as technology, innovation and creativity."
UP THE RANKS
Despite his family connections, Taylor's rise through Cox Enterprises wasn't a given. He started at an entry-level position and had to earn his way to where he is today.
When he told his mother's cousin, Jim Kennedy, who was Cox chairman and CEO at the time, that he wanted to join the company, Kennedy's first instinct was to send Taylor to the digital group in Atlanta. But then he reconsidered, instead sending Taylor to Grand Junction, Colorado, to be a general assignment reporter at The Daily Sentinel, covering stories like the local cherry harvest.
"Jim said, 'It'll be the best business training you could ever have, because being a reporter teaches you how to figure out what the right questions are, and that skill will serve you well your whole life,'" Taylor recalls.
Soon after his introduction to newspapers in Colorado, Taylor moved to Austin, Texas, to work on the metro desk at the Austin American-Statesman, covering the police department and county courthouse, later working his way up to assistant metro editor. He then made the switch from the editorial side of the media company to the business side, selling classified automotive ads for The Atlanta Journal-Constitution.
"Advertising was like the dark side to a journalist," Taylor says. "But I went to the other side and realized that advertising pays the bills. I learned a lot about how to do it and the importance of doing it well."
Jamie Wildman, BA'97, who met Taylor during rush at Phi Kappa Psi, the fraternity they both pledged at Vanderbilt, says his longtime friend emerges as a leader no matter the circumstances. "When I talk to classmates, we all share the same view that if there is someone who exhibits a high degree of leadership, he is at the top of that list," says Wildman, now a managing director at investment banking firm William Blair & Co. "He has an amazing ability to accomplish a goal—and an amazing amount of determination."
Taylor soon began figuring out how to navigate the consolidation of the Cox Media Group. His first task was to find a way for the Cox-owned newspaper and television and radio stations in Dayton, Ohio, to coexist. "They used to look at each other as dire enemies—radio versus TV versus newspaper," he says. "But we needed to get those cultures to work together." Using Dayton as a model, he set about creating collaboration among the company's media operations in Alabama, Georgia and Texas.
His success in the media group soon led to a new role overseeing operations of the cable systems at Cox Communications. With his latest promotion, Taylor leads the company's three subsidiaries—Cox Communications, Cox Automotive and Cox Media Group—as well as the overall company's long-term investment and growth strategies.
"If you do personality profiles, I am high on the change scale," says Taylor, who welcomes the challenges (and opportunities) that come with the rise of digital media. "I am very comfortable in a world that's changing, and when people say you can't do this or that, my initial reaction is, 'Well, of course you can.' Studying HOD at Vanderbilt made me comfortable finding ways to tackle challenges."
A LEGACY OF RESPECT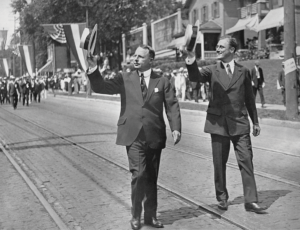 James M. Cox bought his first newspaper at 28, and purchased another one six years later, before trying his hand at politics. He won a seat in the U.S. House of Representatives and served three terms as governor of Ohio before running as the Democratic nominee for president in 1920 (and losing to Warren G. Harding), with Franklin D. Roosevelt as his running mate.
Although he never met his great-grandfather, Taylor says he carries on in the spirit of the company's progressive founder, soaking up family stories and famous quotes from him. One in particular stands out for Taylor: "Ask yourself one question: 'Is it right?' Then do what you believe is best for your town, your state and your country."
In Cox's last will and testament, he wrote, "The good fortunes of our company are the direct result of our company's employees, and I ask my children and trustees to always recognize that debt." Taylor says he has taken to heart that plea as an executive in the company.
"He treats everyone the same way—with a tremendous amount of respect—no matter what role they have," says Wildman, who has stayed close with Taylor since college.
Recognizing his own good fortune, Taylor also understands the importance of giving back. He donated all the profits from his fly-fishing book to the International Game Fishing Association. "I wanted the book to have purpose, a little bit of social cause," he says. "I was trying to point out the conservation challenges in all these fisheries." He served on the board of directors for American Rivers for eight years before being named its chairman in 2014.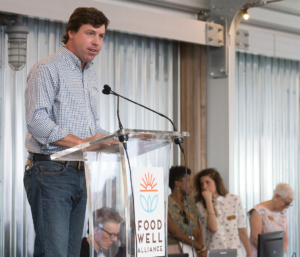 He also is currently a member of the board of directors for both the PATH Foundation and the Food Well Alliance, two Atlanta charities dedicated to improving public spaces. "The vision of PATH is to be able to bike or walk anywhere in Atlanta," he explains, "and the Food Well Alliance is a nonprofit committed to converting brown and unclaimed urban spaces into gardens."
In recent years Taylor also has increased his involvement with Vanderbilt. In addition to his appointment on the Board of Trust, he has hosted Summer Send-Off Parties for first-year students in Atlanta and helped increase giving among graduating seniors with challenge grants.
"The university has found that if you give as a senior, you are much more likely to give in the years ahead," says Taylor, who agreed to make a significant donation to Experience Vanderbilt—funds to support extracurricular activities for students on financial aid—if 75 percent of the seniors gave to the Senior Class Fund. "The first year they did not hit the goal, but the second year they did, so I had to pay up," says Taylor, laughing. "It was money well spent." This year Taylor will support another Senior Class Fund challenge grant for Experience Vanderbilt.
As Taylor has been learning about the Opportunity Vanderbilt financial aid program and the Academic Strategic Plan as a Vanderbilt trustee, Zeppos says he has also appreciated Taylor's wider curiosity about a variety of other matters, from voter turnout to technological innovation.
"Here is someone really young who is full of this wisdom of the big picture," Zeppos says. "He is asking, 'How do you make Atlanta better or Vanderbilt better or America better?' He is just someone who sees what can be better and what he can bring to the table to help."
---
Elizabeth Cook Jenkins, BS'99, is a freelance writer in Los Angeles. At Vanderbilt she majored in both human and organizational development and English.

---