Media Inquiries
Latest Stories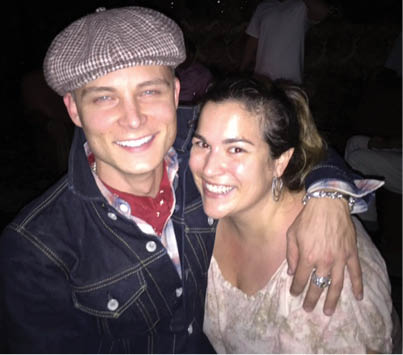 On March 31, 2016, Raffaella Braun, BA'02, was just a few hours into a full day of travel to Las Vegas to attend the annual Academy of Country Music Awards. At 10 a.m. she sent her first of many tweets that day.
"Good morning, all!!" she wrote, "Just wrapped up a report from my show last night with Dan + Shay in Sacramento! Headed to Vegas for ACMs now!"
The manager of West Coast promotions for Warner Music Nashville, Braun was a guest volunteer on the Vanderbilt Alumni Association's DoresAtWork Twitter account. DoresAtWork is a monthly series that invites Vanderbilt alumni to share their work-life experiences. Guests tweet as they go through a typical day, fielding questions about their careers from student and alumni followers.
Braun, who lives in Scottsdale, Arizona, after spending 11 years in Nashville, saw DoresAtWork as a great opportunity to stay engaged despite living far from the university. "Living in Arizona, it would be easy to occasionally find myself a bit disconnected," she explains. "I was thrilled to help in this way, where I could make an impact of some sort 2,000 miles from campus!"
Throughout the day she shared moments from her trip to Las Vegas, insight into the music business, and reflections on her personal Vanderbilt experience. Her responses to questions from students and alumni included words of encouragement along with professional advice.
"Those moments of interaction were the best snippets of my day," she says.
DoresAtWork features alumni from diverse professions. Recent guests have included Wyatt Smith, BS'10, a consultant with McKinsey & Co.; Imani Ellis, BA'12, a communications manager at Bravo Media; and Catherine Cocke, BA'13, a portfolio manager at Kiva.
Visit twitter.com/doresatwork to follow the account and join the conversation.
—MATT ANDERSON
---