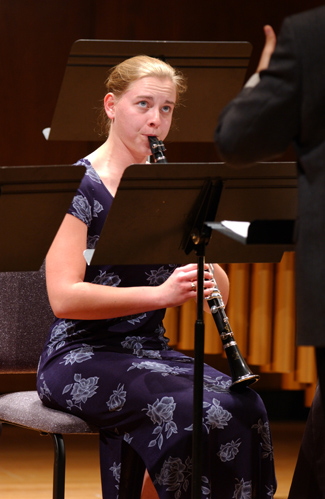 Vanderbilt University's Blair School of Music hosts the 2017 Backun International Clarinet Competition March 9-11, welcoming young musicians from around the world who will compete for $15,000 in award prizes.
Evening performances and a Friday afternoon concert are free and open to the public. All concerts take place in the Steve and Judy Turner Recital Hall. Performers include:
Ricardo Morales, principal clarinet of The Philadelphia Orchestra, 8 p.m. March 9
Wonkak Kim, associate professor of clarinet at Tennessee Tech University, with James Zimmermann, principal clarinet of the Nashville Symphony, 1 p.m. March 10
Corrado Giuffredi, principal clarinet of Orchestra della Svizzera Italiana, 8 p.m. March 10
David Shifrin, professor in the practice of clarinet and chamber music at Yale School of Music and an artist member of the Chamber Music Society of Lincoln Center, 8 p.m. March 11
Concertgoers may park for free after 5 p.m. in West Garage, directly across Children's Way from the main entrance to the school.
Ten master classes will be held over the three days of the competition, with participants selected from both competitors and paid registrants. Attending the master classes and competition requires a registration fee of $100 for the three-day event, or a $40-per-day fee.
Competitors qualified for the competition through an online prescreening application process. Blair will host the live rounds of the quarterfinals (16 competitors), semifinals (eight competitors) and finals (four competitors). The Junior Artist competition will feature artists up to age 18 and will award $3,500 in prizes, including a $2,000 first prize. The Young Artist competition will feature musicians from 19 to 30 years of age and will award $10,500 in prizes, including a $6,000 first prize.
The chief judge will be Richard Hawkins, Fenelon B. Rice Professor of Clarinet at Oberlin College and Conservatory in Oberin, Ohio. David Shifrin of Yale will preside over both the Junior Artist and Young Artist juries during the final rounds.
For more information, see the Backun website.
The competition is sponsored by Backun Musical Services. A family business founded in 2000, it is known for its innovative woodwind products.