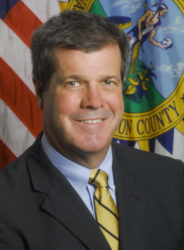 A gathering of some of Nashville's biggest names in development, construction and real estate sells out every year because it's known for accurate market forecasts by the people banking on those.
Hosted by Vanderbilt University School of Engineering, the 8th Annual Construction Project Management Symposium on March 9 is titled "Nashville: Still the 'It City'" and features a conversation with former Mayor Karl Dean, who recently announced he's running for governor.
Sanjiv Gokhale, Vanderbilt's director of graduate studies for construction management, said he'll speak candidly with Dean – whose two terms saw an era of phenomenal growth for Nashville – about how the city's housing and infrastructure can keep up.
"One of the things he couldn't get done was public transit. Is now the time?" Gokhale said. "What can we do differently moving forward? I want to talk about low-cost housing and how to protect and increase that in an explosive real estate market."
Other sessions will cover:
The redevelopment of established Nashville neighborhoods, including Germantown, Salemtown, Buchanan Street, Wedgewood-Houston, Rutledge Hill and the Nations.
Making Nashville a "Smart City," increasing connectivity of transportation, health care, safety and educational systems.
Making Nashville International Airport truly international to attract further development.
The event is again sold out for the public, but we are reserving seats for media. The full schedule is attached.
WHAT: 8th Annual Construction Management Symposium, "Nashville: Still the 'It City'"
WHEN: Thursday, March 9, 8:15 a.m.-4:30 p.m.
WHERE: Vanderbilt School of Engineering, Featheringill Hall, Jacobs Believed in Me Auditorium