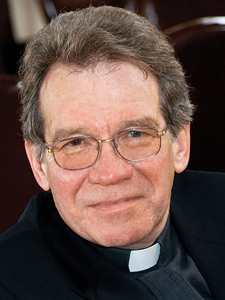 James Bernauer, a Jesuit priest and professor of philosophy whose areas of expertise include the Holocaust, will speak at Christ the King Catholic Church March 13.
Bernauer's talk, which begins at 7 p.m. in the church's Parish Hall, is titled "A Human Solidarity: Jews, Jesuits and Holocaust Remembrance."
Bernauer is the Kraft Family Professor and director of the Center for Christian-Jewish Learning at Boston College. He has published extensively on Holocaust studies, German Jewry, and the philosophies of Michel Foucault and Hannah Arendt.
While he is in Nashville, Bernauer also will lecture at a Vanderbilt Divinity School class on Jewish-Christian relations that is co-taught by Amy-Jill Levine, University Professor of New Testament and Jewish Studies, and Bruce Morrill, Edward A. Malloy Professor of Roman Catholic Studies.
Bernauer's current research is a study of Jesuits and Jews during the period of the Holocaust. His most recent book, co-edited with Robert Maryks, is The Tragic Couple: Encounters between Jews and Jesuits (2014).
Bernauer, who earned his doctorate in philosophy from the State University of New York, Stony Brook, has taught at Boston College since 1980. He also has a master of sacred theology in psychiatry and religion from Union Theology Seminary, a master of divinity in theology from Woodstock College, and a master of arts in philosophy from St. Louis University.
The talk, which is free and open to the public, is co-sponsored by the Edward A. Malloy Roman Catholic Chair of Catholic Studies, Vanderbilt Divinity School and Christ the King Catholic Church.