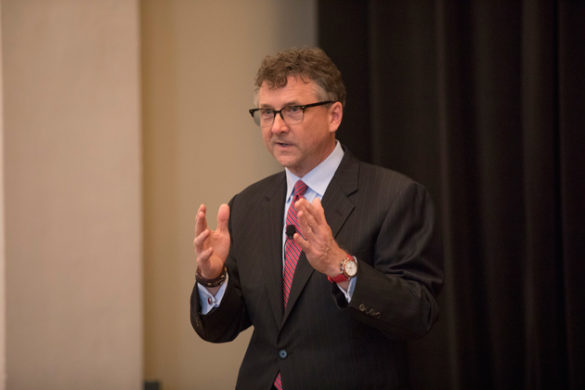 On Feb. 23, approximately 75 SkyVU project participants gathered to learn more about Vanderbilt's partnership with Oracle Cloud Solutions and Huron Consulting Group. This forum focused on why this is the right time to implement a cloud-based solution and how SkyVU will better Vanderbilt by freeing up resources to focus on supporting the Academic Strategic Plan.
"(Through SkyVU), we are going to major on what makes Vanderbilt special, and that's not business processes," said John Lutz, vice chancellor for information technology. "This will give us the opportunity to devote more resources to places that differentiate Vanderbilt."
With this project, Vanderbilt has become a leader in an overall trend of universities moving their financial and administrative systems to the cloud, said Steve Kish, managing director at Huron Consulting Group.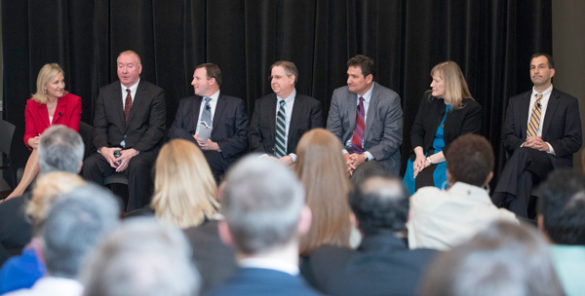 "Having tailored solutions has led to highly engineered, highly complex business processes (for higher education)," Kish said. "Today, the trend is toward simplicity in processes, not complexity. … You are deploying state-of-the-art implementation techniques, and the degree of difficulty of that is high—but you are organized to do this."
Gene Casciola, a vice president at Oracle responsible for health care, higher education and life sciences industries, said that the corporation has partnered with seven other universities on enterprise resource projects and noted that higher education is a tremendously important market for the next generation of leaders.
"There's a spirited interest in moving to the cloud," Casciola said. "We were thrilled when Vanderbilt gave us their commitment to partner with Oracle."
Similar to other institutions, Vanderbilt developed and tailored many of its systems over the past 30 years so much that these have become burdensome to maintain and update.
"We can free all of that capacity to support our students and faculty," Brett Sweet, vice chancellor for finance and chief financial officer, said.
However, this change will not come without its challenges.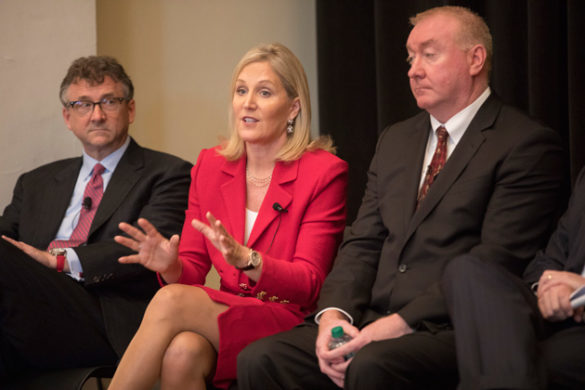 "I often tell clients and my teams that you don't just check a box," said Joanne Olsen, executive vice president of Oracle Global Cloud Services and Support. "This is a journey, not an event. It's a continual transformation."
With 5,000 developers dedicated to cloud solutions at Oracle, Olsen assured the audience that research and development is a top priority for the company.
"We now out-invest IBM in research and development," Olsen said. "This translates to $5.2 billion spent on R&D to innovate cloud products. Where we're investing is in the next generation of cloud."
As a cloud partner, Oracle will unify and integrate apps, thereby removing this burden from the university, Olsen said. Oracle updates and enhances with new releases twice a year, and Vanderbilt will be able to take full advantage of this continuous innovation.
"There's nothing magical or miraculous about the cloud," Olsen said. "What's fundamentally different is that this will take the burden off of IT and will design apps that are configurable for Vanderbilt."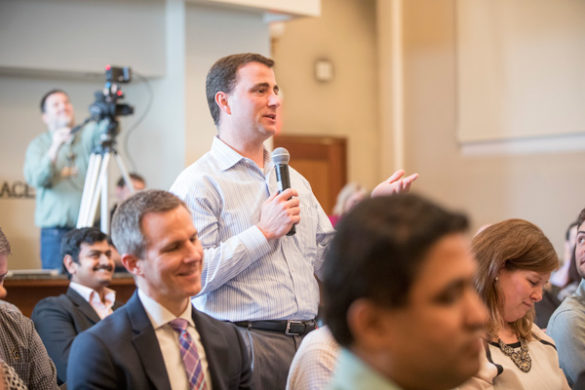 Eric Kopstain, vice chancellor for administration, said this move to the cloud represents a crucial change that will pay dividends in the future.
"We have great people working here, and we can now take away the burden of nonstandard processes and stop getting in the way of ourselves," Kopstain said. "Instead, we can apply more energy to our core mission."
SkyVU's implementation date is slated for Jan. 1, 2018. For more information about this initiative, visit the SkyVU website or email skyvu@vanderbilt.edu.